GOLD rose in London trade on Wednesday, recovering an overnight dip to reach $1352 per ounce for US investors and rising fastest against the 'safe haven' Swiss Franc and Japanese Yen currencies but outpaced by a sharp jump in the price of silver.
Rising almost 2% in London trade, silver prices touched 11-week highs against the Dollar at $17.11 per ounce.
That pushed the
Gold/Silver Ratio
 of the two metals' relative prices back below 80 for the first time since mid-March.
European stock markets failed to follow Asian equities higher, but commodity prices rose, with
Brent crude oil
nearing last week's 3-year highs above $72.50 per barrel.
"While Japan and South Korea would like us to go back into [the Trans Pacific Partnership],
I don't like the deal
for the United States," tweeted US President Donald Trump ahead of a 2-day meeting with Japanese Prime Minister Shinzo Abe.
"Bilateral deals are far more efficient, profitable and better for OUR workers. Look how bad WTO is to US."
"The multilateral rules-based trade system that evolved after world war two nurtured
unprecedented growth
in the world economy," said International Monetary Fund economic counsellor Maurice Obstfeld yesterday, presenting the IMF's latest forecast updates.
"It is in danger of being torn apart [because] voters' disillusionment [with globalization] raises the threat of political developments that could
destabilize a range of economic policies
…reaching beyond trade."
Gold prices rose fastest on Wednesday against the Swiss Franc, touching the highest level since the UK's Brexit referendum shock of mid-2016 at CHF 1307 per ounce.
Proponents of this 'vollgeld' initiative claim it will reduce financial volatility, risk and profiteering by making the central bank the sole source of new money creation.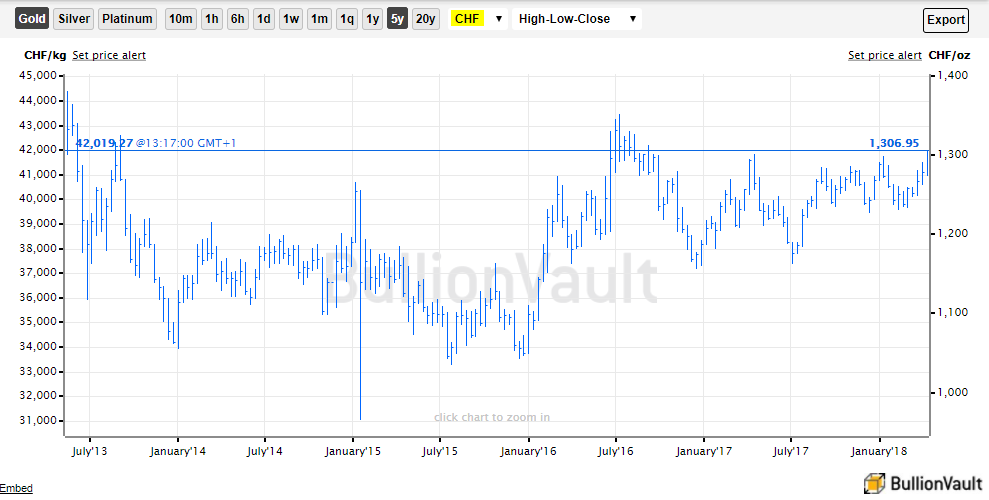 Major government bond prices meantime slipped Wednesday, edging longer-term interest rates higher.
Ten-year US Treasury yields rose back to April's highs so far at 2.83%.
New data today said annual consumer-price inflation in the UK fell to a 12-month low in March. But at 2.5% it remained above the Bank of England's government-required target for the 14th month in a row.
UK inflation
has now been higher than the BoE's 2.0% target for almost two-thirds of the last 10 years.
So-called 'core' inflation in the 19-nation Eurozone – stripping out volatile food and fuel costs – meantime stuck at 1.0% yet again.
A briefing from the White House on Trump's strategy for Syria in contrast
left US lawmakers "unnerved"
reports CNN, quoting one Republican senator as saying the administration is "going down a dangerous path" after last weekend's airstrikes against Assad regime facilities.