GOLD and SILVER PRICES fell sharply on Wednesday, erasing half and all of their earlier October gains respectively as world stock markets rallied and precious-metal executives got back to work from the London Bullion Market Association's 19th annual conference, held this year in Boston.
The US Dollar today hit mid-August highs against the single currency Euro after new US jobs data said payrolls grew by 227,000 this month on the private-sector ADP estimate, beating Wall Street forecasts with the strongest reading in 8 months.
So-called 'core' inflation across the 19-nation currency union meantime edged up to 1.1% per year in October, separate figures said today, the
top end of the last 14 months' range
for the Eurozone's 337 million citizens.
SPDR Gold Trust (NYSEArca:GLD) – the largest such gold-backed ETF – has
expanded 1.7% in size
as investor demand has led to the creation of new shares in October.
Gold prices fell to 3-week lows Wednesday however as Western stock markets followed Asia higher after the US stock market managed only its second gain of the last week overnight.
Dropping to $1213 per ounce, gold prices cut their October gains to 1.8% – half the profit seen Friday – with the first monthly rise since March.
Silver prices have meantime rallied and then lost 3.9% in Dollar terms this month after moving down from $15 to $14 per ounce in August and September.
Dropping to $14.22 on Wednesday morning, silver prices headed for a 3.0% loss for October, failing to record a monthly gain since May.
"Investment flows dominate the silver price, not industrial demand," said David Holmes, senior vice president at global refining group Heraeus in New York, at yesterday's concluding day of the LBMA 2018 event.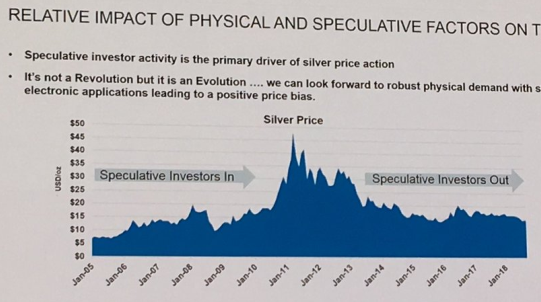 Calling silver his "favorite metal" – a condition for which World Gold Council strategist John Reade joked "there is medication" – Holmes now expects hedge funds to reduce their record heavy bearish betting against silver, enabling prices to rise to $16 per ounce by this time in 2019.
LBMA delegates were more cautiously bullish, forecasting on average that silver prices will trade at $15 per ounce at the time of next year's event – set
to be held jointly
with China's government-backed Shanghai Gold Exchange in the city of Shenzhen.
According to Tuesday's conference-app poll, LBMA attendees were more bullish on palladium, forecasting that the tightly-supplied industrial metal will rise 4.7% above last week's new all-time record highs.
The
platinum price
outlook is better still, LBMA attendees said in aggregate, forecasting a rise of 20.8% from current levels.
Most dramatic however was the LBMA 2018 Boston conference's
delegate forecast for gold
, predicting a gain of more than 25.0% in Tuesday's poll – the most bullish such forecast since the event began in 2001 – with a price of $1532 per ounce after the more-heavily attended Monday morning poll had forecast an October 2019 gold price of $1565.