GOLD PRICES moved in a tight $5 range above yesterday's new 2018 low against a rising US Dollar on Friday, holding a 2.5% drop for the week at $1287 per ounce as Asian stockmarkets climbed back to unchanged and European equities held a half-a-per-cent gain.
The rising Dollar also pushed other non-US currencies down to 5-month lows, with the Euro falling back below $1.18.
Crude oil outpaced the greenback however, setting new 3.5-year highs near $80 per barrel of Brent even as the Dollar gained on the forex market. 
"Physical gold demand is [only] slightly better than it was when prices were above $1300,"
Reuters quotes Hong Long dealer
Ronald Leung at Lee Cheong Gold, pointing to gold's relative strength against weak Asian currencies.
"Demand picked up a bit, but not as quick as it should have been" following Tuesday's drop, agrees a dealer in Singapore.
Gold prices in India – the No.2 consumer nation – this week slipped only 1.5% from last Friday's near 2-year high as the Rupee continued to fall on the currency market.
Gold's 2.3% Dollar drop since Monday has also left the SPDR Gold Trust (NYSEArca:GLD) unchanged in size – the first time that shareholdings in the world's largest gold-backed ETF haven't responded to such a large price move since December.
Mutual funds and other institutional investors owned more than 41% of the SPDR Gold Trust (NYSEArca:GLD) at end-March, regulatory filings for end-March show, the highest proportion of professional rather than private-investor ownership since Q3 2016.
That compares to a low of 32% when gold prices bottomed at end-2015.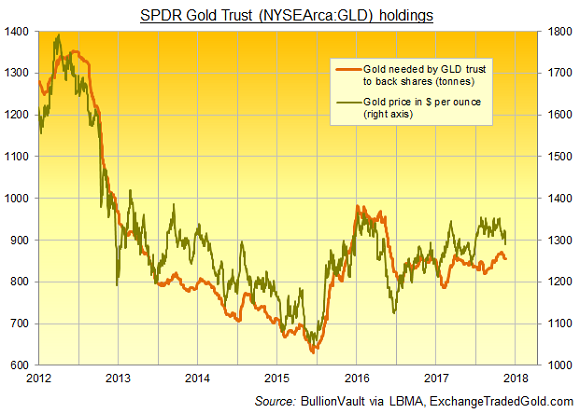 Calling early 2018's gold price action "range-bound [would be] somewhat of an understatement," said a note from Australian financial group Macquarie's Matthew Turner last week.
Measuring the US Dollar gold price's trading range as percentage from low to high over January to April, 2018 has seen the lowest volatility since the United States abandoned its fixed-exchange rate
Gold Standard in 1971
.
"Given heightened volatility in equity markets this is quite remarkable," says Turner, calling gold "the comatose metal."
"We expect more price weakness towards $ 1250 per ounce," says a
new note from Dutch bank
ABN Amro, "[which] should be an opportunity to position for strength in 2019."
Despite bouncing 20 cents from Tuesday's drop, "Silver is not far away from its annual low" says MKS, with the metal reaching $16.41 as New York dealing began today.