GOLD BROKE back above $1300 per ounce and silver jumped to 2-month highs versus the Dollar on Thursday morning even though the Federal Reserve yesterday raised US interest rates and forecast further hikes ahead.
Priced in the Euro gold then leapt again, hitting new highs for June at €1113 per ounce as the single currency sank on the FX market despite the European Central Bank saying it
plans to stop new QE
money-creation and bond-buying scheme in December.
Against this tightening, "The Governing Council intends to maintain its policy of reinvesting the principal payments from maturing securities…for an extended period of time," the ECB said.
Interest rates across the 19-nation Eurozone will also stay unchanged "at least through the summer of 2019," holding deposit rates for commercial banks at minus 0.4% in the hope of "ensur[ing] that the evolution of inflation remains aligned with the current expectations of a sustained adjustment path."
After Wall Street turned a small gain into a 0.4% loss following the Fed announcement Wednesday, Japan's stock market today lost 0.9% and European equities slipped 0.3% before jumping on the ECB's policy announcement.
Silver prices
meantime broke to the top of their recent Dollar trading range, reaching the highest Dollar price since mid-April at $17.25 per ounce and touching 7-month highs for Euro and also British Pound investors.
That pushed the price of gold, divided by silver, sharply lower to new 6-month lows just above 76.
On its 100-day moving average, the GSR last week set its highest level since the all-time peak marked during the early 1990s' recession.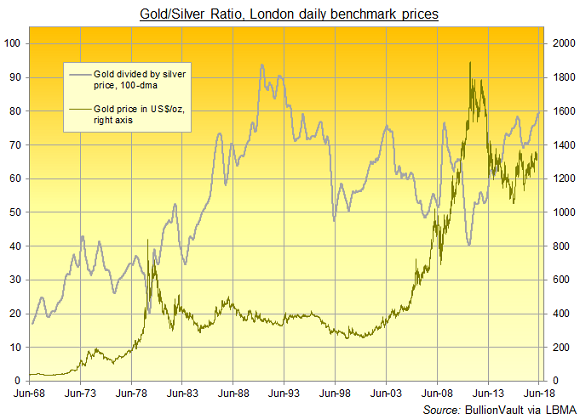 While the price of silver has gained over 3.0% so far in June, the number of shares outstanding in the giant iShares Silver Trust (NYSEArca:SLV) has shrunk by 1.9% as investors sold out, cutting the quantity of silver bullion needed to back the ETF's value by more than 190 tonnes to a 4-month low of 9,825 tonnes.
The largest gold-backed ETF – the SPDR Gold Trust (NYSEArca:GLD) – ended Wednesday unchanged in size for the 3rd session running.
Needing some 829 tonnes, the GLD also now stands at its smallest size since mid-February.
Wednesday's policy decision from the US Fed came with new economic and
interest-rate forecasts from FOMC members
, showing the majority now expect to make two further hikes this year after yesterday's move up to a ceiling of 2.0% on the Fed Funds rate.
Betting on interest-rate futures
today moved to put a 51% probability on 2 more hikes by end-December, up from a 45% likelihood before Wednesday's Fed announcement.
That would make a total of 4 in 2018, each spaced 3 months apart.
Giving his second quarterly press conference as Fed chair, Jerome Powell said he wants to speak with journalists after every meeting in future
"[This] does not signal anything about the timing or pace of future interest rate changes,"
said Powell
.
"This is only about improving communication."