GOLD PRICES rallied Wednesday in London after dipping within $2.50 of last week's new 2018 lows versus the Dollar following President Trump's decision to pull the US out of the 2015 deal with Iran over its nuclear research program.
Wholesale gold bullion bars bounced almost $10 per ounce from $1304.50 as world stock markets failed to follow Wall Street higher and major government bond prices fell, driving longer-term interest rates higher.
The yield offered by 10-year US Treasury debt rose back near 4-year highs above 3.0% for the second time in a fortnight, while crude oil prices jumped 2.5% to new 3.5-year highs above $70 per barrel of US benchmark WTI.
That pushed the ratio of gold priced in barrels of crude oil down to 18.5 – its lowest level since late 2014.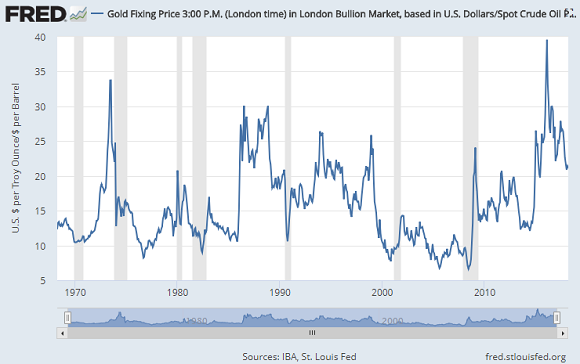 The
jump in crude oil prices
also hit the energy-importer currencies of major gold-consumer nations India and Turkey on the foreign exchange market.
With the Lira falling to new all-time record lows meantime as Washington moved to re-impose sanctions on neighboring Iran, the central bank in Ankara today auctioned off $1.5 billion of foreign reserves
to try and support the Turkish currency
's exchange rate.
Iran's central bank itself said it had prepared for Trump's decision, and would ensure sufficient liquidity of foreign exchange to support the Islamic republic's economy.
"In the very short term, it looks as if the impact of heightened geopolitical worries was limited to oil markets," Reuters quotes Japanese finance house Mitsubishi UFJ Morgan Stanley Securities' strategist Norihiro Fujito.
"The initial risk-off sentiment following President Trump's Iran announcement [soon] dissipated," says today's Asian trading note from Swiss refiners and finance group MKS Pamp.
Gold prices fell less steeply against non-Dollar currencies, rising to 1-week highs versus the Japanese Yen and trading at €1105 per ounce for Eurozone investors – up 0.7% for the week so far – as poor French industrial output and Spanish retail sales figures added to yesterday's weak import and export numbers from Germany.
Ahead of tomorrow's interest-rate decision from the Bank of England however, the
UK gold price in Pounds per ounce
in contrast fell £10 from Tuesday's near-4 month highs at £972 as Sterling jumped on the FX market despite worsening UK economic figures.
The Pound leapt 1 cent versus the Dollar however, rallying towards $1.36 after hitting the lowest level of 2018 so far last week.