BUY GOLD prices in London's wholesale market fell $15 from nearly touching $1300 per ounce Friday after new data showed much stronger-than-expected US jobs growth at the end of 2018.
Trading down to $1284, gold priced in Dollars still headed for a 0.5% weekly rise, its third consecutive such rise – and the longest stretch since early October's recovery from sub-$1200 – after the Bureau of Labor Statistics said the world's No.1 economy
added 312,000 jobs
in December, 75% more than Wall Street forecast.
Average earnings also rose faster than analysts expected, but so too did the number of people looking for work.
That nudged the jobless rate – as a proportion of the US labor force – back up to 3.9% from last autumn's fresh 45-year low of 3.7%.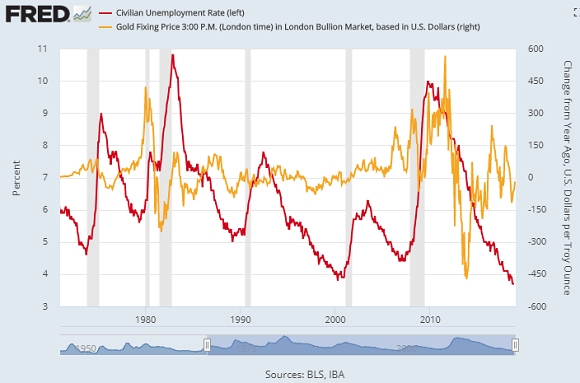 With Dollar prices to buy gold nearing $1300 per ounce in Asian trade overnight, "We believe that there is still room for gold prices to move higher," says the latest forecast from specialist analysts
Metals Focus
.
"However, over the coming months we expect several headwinds to remain in place…in particular, the Dollar."
The Dollar jumped on today's US jobs data, knocking the single Euro currency down half-a-cent as longer-term US interest rates jumped in the Treasury bond market.
The US currency will retain support until late 2019, Metals Focus believes, from rising interest rates, a weak Euro and the US-China trade war.
"The United States Treasury has taken in MANY billions of dollars from the Tariffs we are charging China and other countries that have not treated us fairly," said President Donald Trump on Twitter today.
The People's Bank of China today cut the amount of money commercial lenders must keep back from new loans for
the 5th time in the last 12 months
, trimming the reserve requirement ratio for large banks to 13.5% by the end of January from more than 17% a year ago.
New Eurozone inflation data meantime showed a
hard slowdown in consumer prices
from 1.9% to 1.6% annual growth, while factory costs showed a 0.3% drop in December from November.
"In physical market demand is negligible," says one Hyderabad dealer. "Retail consumers are not comfortable with [gold's] higher prices."
Prices to buy gold with British Pounds or Euros held onto much of this New Year's jump meantime, trading around 1% higher for UK, French, German and Italian investors from last Friday's finish.
Priced in Dollars however, silver also cut its weekly gain following the US jobs data on Friday, heading for a 2.3% rise at $15.73 per ounce.
Platinum edged above $800 per ounce for the 5th time over the last month, trading $10 higher from last week's finish.
Facing calls to end the partial shutdown of US government agencies by putting his plans for a wall at the Mexican border on hold, "The Shutdown is only because of the 2020 Presidential Election," President Trump also said on Twitter today.
"The Democrats know they can't win based on all of the achievements of 'Trump'."
With the now Democrat-controlled House opening Thursday with what pundits widely call the "
most diverse Congress ever
" – including the first Native American women, the first Muslim women, the first openly bisexual senator, and the first Latina representatives from Texas – Trump tweeted a video entitled "
Crisis on the border
", highlighting "Crime, drugs, lawlessness" and a need to "Build the wall".