GOLD and SILVER fell Friday lunchtime in London, dropping back to $1292 and $17.09 per ounce respectively as the White House confirmed new tariffs on an extra $50 billion of China's annual exports to the United States.
US-China trade "has been
very unfair, for a very long time
," said President Donald Trump, raising import tariffs to 25% on 1,100 different aerospace, robotics and auto-industry goods and spurring analyst and newspaper claims of a full-blown 'trade war'.
Gold priced in Dollars headed for a weekly loss of $6 per ounce while silver trimmed its gain from last Friday's finish to 1.8%.
Having spiked sharply to a 2-month high above $17.30 yesterday, silver face "near term resistance at $17.18," says technical analysis from French investment bank Societe Generale, pointing to "the descending trend line" running from early 2017.
Australian equities overnight added 1.3% for the day as Tokyo rose, but China led a drop in other major stock markets, with
European-listed shares
falling back to show a 1.6% gain for the week amid rumors of Trump's new tariffs on Chinese imports.
"It's been quite a tumultuous year for major geopolitical events, and yet gold has done nothing," said Australian bank Macquarie's precious metals analyst Matthew Turner,
speaking to CNBC today
.
With a trading range of just $80 per ounce so far in 2018, "in percentage terms that's the lowest since 1970," Turner added, "back when the gold price was fixed to the Dollar."
On a 1-month basis, volatility in the Dollar gold price last month fell to the record low seen at the end of last year says a note from Yuichi Ikemizu, Tokyo precious metals manager at global bullion bank ICBC Standard Bank.
"Because of this low volatility, fewer investors are in the market so the volatility gets even lower," Ikemizu says, adding that Tokyo gold futures contracts on the Tocom Exchange now offer a huge 70-to-1 leverage for traders because margin payments are based on recent levels of price fluctuation.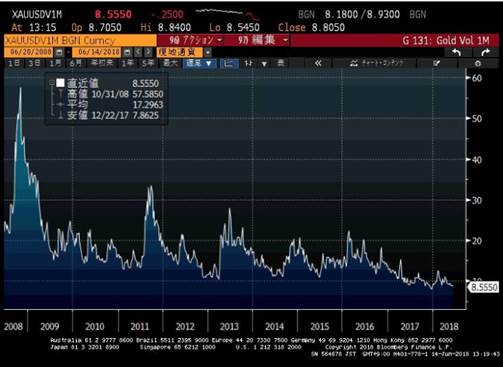 Asked what might break gold out of its doldrums, "Gold does well when central bankers are losing control, and right now central banks are tightening into a recovering economy," Turner at Macquarie said today.
But 2019 is widely forecast to see global economic growth slow down, and "over the last 20 years it has been recession that's been good for the gold price, not inflation," he concludes.
Silver meantime "could be in the process of completing the second shoulder of a
massive Inverted Head and Shoulder pattern
undergoing since 2013," says the technical note from bullion market-maker Societe Generale.
This follows silver marking "a lengthy base formation after testing the perennial trend line" joining its 2003, 2008 and 2015 lows, says SocGen's technical analysis.
The inverted H&S – a potentially bullish pattern – would be confirmed  by a rise to $18.67 the SG Research team go on, pointing to a level "which also coincides with April 2017 highs and the 61.8% [Fibonacci] retracement of the 2016 to 2017 correction."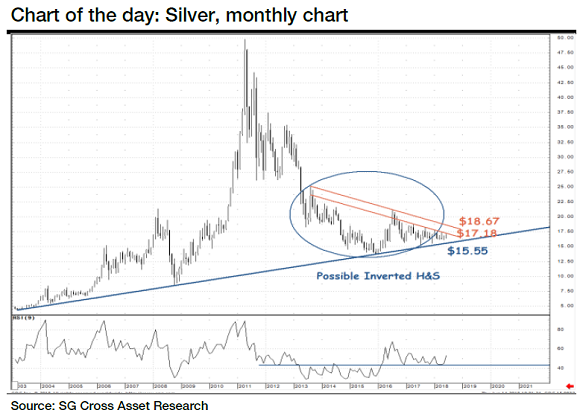 Before then, says a technical note from bullion bank Scotia Mocatta's New York office, "New resistance comes in at [this April's high of] $17.36.
"Momentum indicators are positive and [we] remain bullish on silver, targeting the $17.50 level."