GOLD PRICES rallied or held firm against most major currencies on Thursday but set fresh 6-month lows in US Dollar terms as world stock markets fell and key gold-consumer currencies sank amid worsening tensions over President Trump's foreign policy.
India is preparing to comply with Washington's order to cease buying oil from Iran, according to the
Economic Times
, ordering refiners to
get ready for a "drastic reduction or zero"
imports of oil from the Islamic state from November.
But "
China and Iran are friendly countries
to each other," Beijing's Foreign Ministry said overnight, defying the US threat to shutdown Dollar banking for countries which continue to buy Iranian crude or deal with its central bank.
Iran's top oil buyer, China is also the No.1 consumer market for gold.
The 7th largest consumer market for gold in 2017, Iran has already seen US sanctions – spurred by Trump's rejection of the nuclear deal reached in 2015 – "cause turmoil" in its gold market said a report from specialist analysts
Metals Focus
at end-May.
"Poor jewellery consumption and payment term deadlines have…forced retailers to return unsold merchandise to wholesalers," said the consultancy, with private scrapping plus government gold sales to buy US Dollars driving domestic prices to a discount "despite unofficial outflows to Turkey.
"Trends in the investment market are quite different [as] growing political insecurity and weak economic confidence has…created a frenzy of gold coin and bar buying."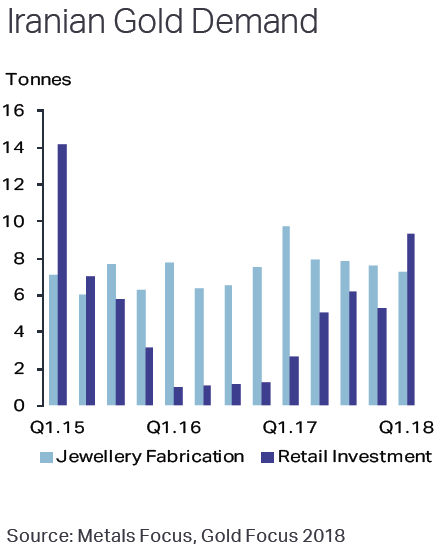 In the first 3 months of 2018 alone, household gold coin and bar demand in Iran reached almost half of last year's total.
Having shut down gold coin sales until January, and then limited consumer purchases in April, the Central Bank of Iran last weekend announced new moves to try and stem the consumer flight into gold coins, 
selling contracts for future delivery
 of bullion through the stock market.
"I don't think even one of the 81 million Iranian population believes that Iran should bow to the aggressor, liar, impolite and insulter, and accept his words," President Hassan
Rouhani said today
of US President Trump.
Benchmark gold prices in Shanghai meantime held unchanged as China's Yuan currency sank to new 7-month lows on Thursday.
No.2 consumer nation India saw its Rupee fall to new all-time lows against the Dollar, driving up local gold prices and forcing domestic wholesalers to offer wider discounts.
Asian stock markets fell again and European equities erased yesterday's bounce.