Gold Investor Index snaps 2017 pattern of buying and selling…
The NUMBER of private investors buying gold rose sharply in September even as prices recorded their highest monthly average in a year, writes Adrian Ash at BullionVault.
This breaks 2017's previous pattern, when gold investing sentiment moved inversely to the metal's month-average Dollar cost and higher prices deterred new buying.
While falling sharply from 8 September's 1-year high to end last week at $1283, gold prices averaged $1314 across the month, rising 14% from the end of 2016 and 23% above the 6-year low hit at the end of 2015.
The number of people buying gold grew however on
BullionVault
– the world's largest online market for physical precious metals – expanding by 21.5% from August to reach the second-highest monthly total so far in 2017.
The number of sellers meantime retreated by 29.5% having almost doubled on August's price rise to reach the largest number since July 2016. 
Altogether this saw the Gold Investor Index – a unique measure of sentiment built from the buying and selling decisions of thousands of private investors – rise in September to read 54.5 from the
14-month low of 51.6 hit in August
.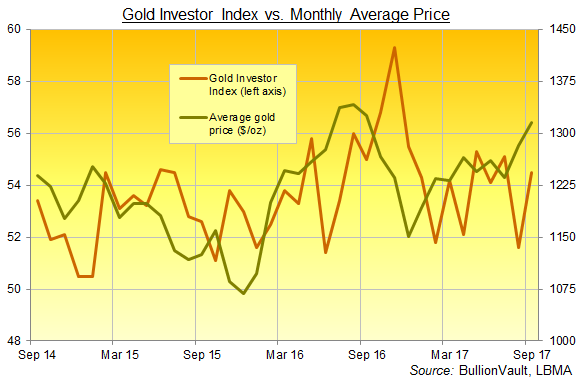 Last month marked the first time since August 2016 that the Gold Investor Index rose alongside month-average gold prices, and the first time the two moved together since last December's drop.
Silver sentiment also rose with month-average prices in September, again breaking the previous 2017 pattern and recovering from August's 6-month low as buying grew.
The number of people selling silver fell 16.1% last month while those starting or adding to their silver holdings grew 17.3% from August's two-year low. 
That took the Silver Investor Index up from 50.4 to 52.3 as Dollar prices averaged a 3.2% rose at $17.45 per ounce.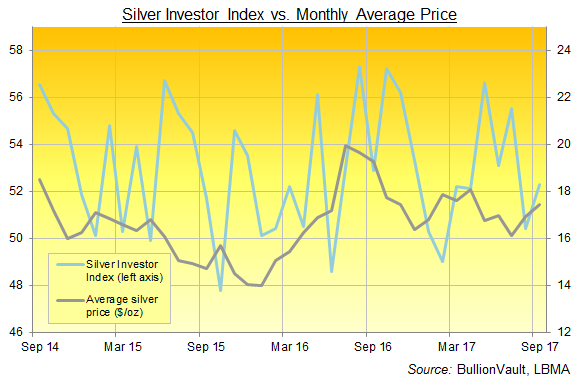 By weight however, total client silver holdings ended last month unchanged at August's new record high above 689 tonnes.
Gold holdings meantime shrank for the second month running, falling by 43kg to 37.7 tonnes after setting a new record above 38.1 tonnes in July.
That liquidation contrasts with the greater count of individuals choosing to buy gold in September, and reflects selling by a small number of larger investors. It's against such measures of weight that the Gold and Silver Investor series really offer insight, showing revealed preference –
not survey-based 'intentions'
– amongst the world's largest single pool of self-directed bullion investors.
Trading live online for instant settlement of physical metal in London, New York, Singapore, Toronto or Zurich, BullionVault users today own $1.6 billion worth of gold bullion between them (£1.2bn, €1.3bn, ¥175bn) – more than is held by most of the world's central banks – plus a further $374m (£279m, €316m, ¥42bn) in physical silver and $8m (£6m, €7m, ¥900m) of physical platinum, added to BullionVault's online order board
in March 2017
in partnership with the mining-backed World Platinum Investment Council.
All told, September's solid upturn in gold buying and silver investing sentiment matches the steady consolidation in prices after last year's Brexit and then US election volatility.
But long-term bull markets need to keep finding buyers as prices rise. And 2017's earlier pattern of bargain-hunt buying followed by quick profit-taking in may not be finished yet in precious metals.