GOLD BUYING grew on Monday morning as Asian stocks resumed their decline and the US Dollar dropped to a 2-month low ahead of tomorrow's key US Congressional hearing on Donald Trump's choice of Jerome Powell to replace Janet Yellen as head of the Federal Reserve, writes Steffen Grosshauser at BullionVault.
With US consumers expected to keep shopping as Wall Street traders returned to work on 'Cyber Monday', the Dollar fell on the FX market to 2-month lows against the single Euro currency as new data showed strong business confidence in Germany.
With 1 Euro buying almost $1.20 this morning, Chancellor Angela Merkel's Conservative Party also
agreed to pursue a "grand coalition"
with the Social Democrats to break the political deadlock in Europe's biggest economy.
Prices to buy gold with US Dollars climbed $10 from last week's close at $1288 per ounce, rising above what analysts called "resistance" at mid-November's prior peak of $1296.
"The inverse relationship between the Dollar and gold prices is in effect," says research chief Mark To at Wing Fung Financial Group in Hong Kong.
"But I don't think that kind of relationship is robust enough to wager larger bets…While prices are moving up, movement will still be range bound."   
Gold buying prices
at the daily London benchmarking auction have traded in a $37 range for the last 6 weeks, the tightest range since the start of 2016 and tighter than all but 3 periods of the last 10 years.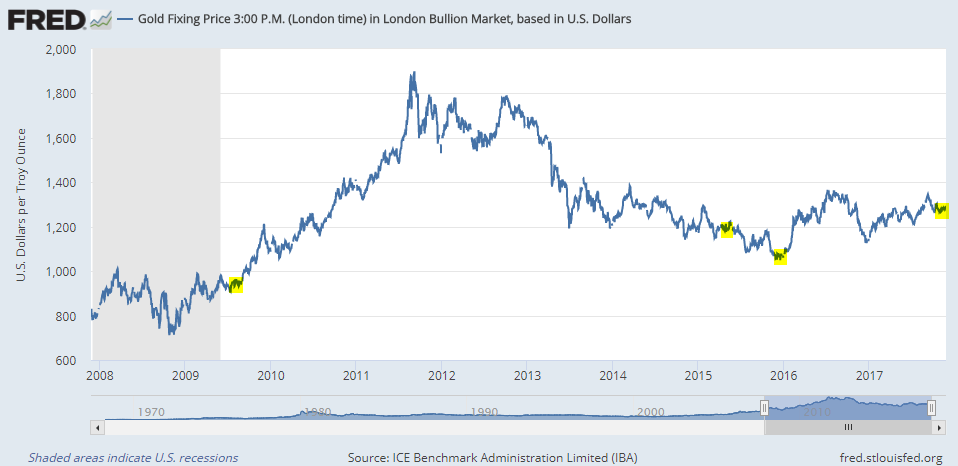 Investors on Monday were meantime looking towards tomorrow's Congressional hearing of the US Fed chair nominee Jerome Powell.
The current incumbent, Janet Yellen will testify to lawmakers on the economy on the following day.
US President Donald Trump is also scheduled to speak Tuesday, this time to Senate Republicans about his planned US tax reforms.
"We expect gold prices to trade sideways," reckons broking firm Angel Commodities in Mumbai, "as the expectations of the [US Dollar] rate hike seems to have been delayed on account of the spate of poor economic data."
Although a rate hike at the Fed's next policy meeting on 12-13 December is widely considered as certain, some policymakers expressed concerns over further action in 2018 at the November meeting.
Cryptocurrency Bitcoin meanwhile surged to a new record high of $9600 on Monday after already breaking its previous record during the Thanksgiving weekend.
According to
a recent CNBC poll
, 27.9% of chief financial officers surveyed thought that Bitcoin was "real but in a bubble" while the exact same proportion considered it a "fraud".
Only 14% of the survey's 43 participants thought Bitcoin was "real and going higher".