GOLD BULLION retreated from new 2-month highs against the Dollar in London trade Tuesday as the UK Supreme Court confirmed that the British Parliament must vote on the Article 50 trigger for starting Brexit.
That kept the price of gold bullion in British Pounds at £970 per ounce, down 1.3% from last Friday's 10-week closing high.
In Dollar terms, gold bullion had earlier touched $1220 per ounce for the first time since 22 November at the start of Asian trade.
Shanghai gold premiums over comparable London quotes slipped below $10 per ounce at
China's benchmarking price auction
, still 4 times the average incentive offered to new imports of bullion, but well below last month's $40 three-year highs.
A favored vehicle amongst US fund managers wanting gold-price exposure, the giant SPDR Gold Trust (NYSEArca:GLD) shrank in size Monday even as gold bullion prices rose, the 7th such day in 14 sessions so far in 2017.
The GLD has now shrunk by almost one-fifth after swelling to a 3-year record immediately after the UK's Brexit referendum result in June 2016.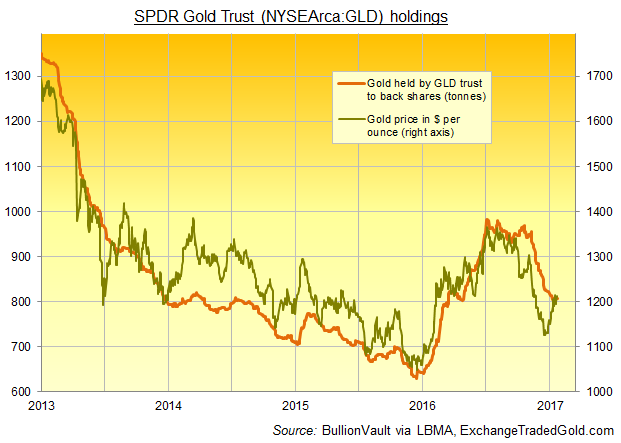 "Resistance is unchanged at $1230.30," reckons the latest technical analysis of gold price charts from Canada-based bank and bullion market maker
Scotia Mocatta's New York office
, pointing to "the 50% Fibo retracement level of the Nov high [to] Dec low.
"Support comes in at $1203.70," it adds, pointing to the 400-day moving average of gold bullion's daily price, saying that the charts "remain bullish gold, targeting $1255.70" short term.
Finding support last month at $1125, gold priced in Dollars "has staged expected rebound and the recovery should persist further towards $1242-1248," says the technical analysis team at French investment bank Societe Generale, "and even towards an ascending trend at $1278.
"Short term though, a consolidation is likely between $1220 and $1196."
Here in London meantime, "The referendum is of great political significance,"
said the UK Supreme Court today
, voting 8-to-3 that for the Government to trigger Article 50 without a vote in Parliament "would be a breach of settled constitutional principles."
The so-called "Sewel Convention" on the devolved powers of Scotland, Wales or Northern Ireland is not however "a legal obligation," the Court found, and so the devolved legislatures have no power to veto Article 50 once approved by the national UK Parliament in London.
"Labour respects the result of the referendum and the will of the British people and will not frustrate the process for invoking Article 50,"
said a statement from opposition Labour Party
leader Jeremy Corbyn, but he "will seek to amend the Article 50 Bill to…build in the principles of full, tariff-free access to the single market and maintenance of workers' rights and social and environmental protections."