GOLD BULLION briefly rose back above $1200 per ounce for the second time this week on Friday as world stock markets ticked higher, major government bond prices slipped, and the central bank of world No.11 economy South Korea warned of a sharp slowdown in growth, holding its key lending rate at the record low of 1.25% reached last summer.
Rising 2.3% from this time last week, gold bullion outpaced the 1.6% rise in US Dollar silver prices, which traded Friday lunchtime in London at $16.46 per ounce.
Faced with this week's earlier new record lows in the Lira, the central bank of Turkey – formerly world No.4 gold consumer nation, now overtaken by Germany – meantime
said it has "many tools"
to combat "speculative" moves in the currency, echoing yesterday's claims from President Erdogan that "There is no difference between a terrorist who has a weapon or bomb in his hand and a terrorist who has Dollars, Euros and interest [rates]…
Having demanded and then welcomed the CBRT's rate cuts of 2016 – and then
urging households to buy gold
bullion alongside the Lira to cut capital outflows last month – Erdogan said the central bank should act to "ruin this game", widely taken as a call to raise the cost of borrowing to support the currency.
"When you start seeing [political] pressure build on central bankers, and the market becoming far less confident [in] central bankers…in our view
you get a bull market for gold
," says Christopher Mahon, director of asset allocation research for the $2.4 billion Baring's Multi-Asset product, which has
almost doubled the average gains
from 'absolute returns' funds over the last 5 years.
"Their policies have been pretty inadequate in many senses," Mahon
said in an interview Monday
. "It's very plausible now that politicians stand up and throw stones at central bankers."
With the US Federal Reserve not meeting until mid-March, "Unemployment has now reached a low level, the labor market is generally strong and wage growth is beginning to pick up," said Fed chair Janet Yellen in a speech Thursday.
Adjusted by inflation in the official US Consumer Price Index, the effective Fed Funds rate has declined from -0.4% to -1.3% since the Fed first raised its key interest rate after 7 years at zero at the end of 2015.
Gold prices have now risen 15% versus the Dollar meantime.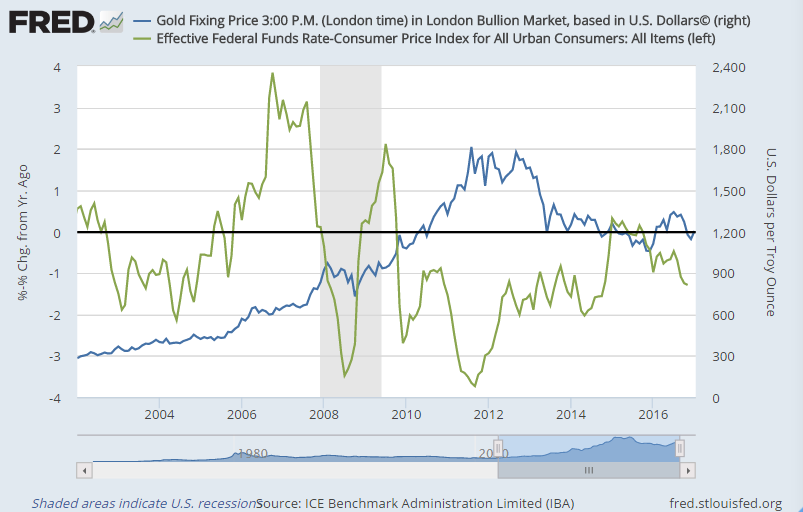 Berlin's finance minister Wolfgang Schauble
last spring accused the European Central Bank
of fuelling support for Germany's so-called "populist" AfD Party, as Bloomberg notes today, by hurting savers with its negative interest-rate and quantitative easing policies.
US president-elect Donald Trump said on the campaign trail last November that
the Federal Reserve should "be ashamed"
of hurting savers and distorting the economy by keeping Dollar interest rates so low.
Gold bullion priced in US Dollars fixed at $1196 per ounce at
Friday morning's benchmark auction in London
, $10 below yesterday's new 7-week high on trading volume matching the daily average from October-December 2016 – the strongest quarterly average since new administrators ICE Benchmarks began managing the process in early 2015.