GOLD BULLION hung onto four-fifths of its sharpest 1-day gain since August in London trade on Thursday, holding firm as world stock markets rose again despite longer-term US interest rates holding at multi-year highs after yesterday's inflation data beat Wall Street forecasts.
The Dollar fell again, with the single currency Euro briefing touching $1.25, just shy of end-January's 3-year high.
US stock markets opened higher, extending yesterday's
post-inflation data surge
, but European equities cut their earlier gains for the day back to 0.7%.
"The Yen, which no-one is focusing on, makes me more nervous," says the ever-gloomy Albert Edwards, strategist at French investment bank Societe Generale.
"Huge speculative Yen shorts have been accumulated at a technically important moment," says Edwards.
"That makes it far more likely the Dollar will fall and the Yen quickly surge" now that a multi-year uptrend in the Dollar's Yen value has been broken at the ¥107.9 level.
Priced in the Yen, the US Dollar fell Thursday beneath ¥106.4, down some 5.7% for 2018 so far.
Bets on US Fed interest rates rising 4 times or more to end 2018 at 2.25% or above have now swollen by one-third from this time last month, totalling over 6-in-10 of all speculative bets
according to data
from futures exchange the CME.
"Kissing this downtrend [in 10-year US bond yields] has typically been very bad news indeed for equity markets," says Edwards at SocGen.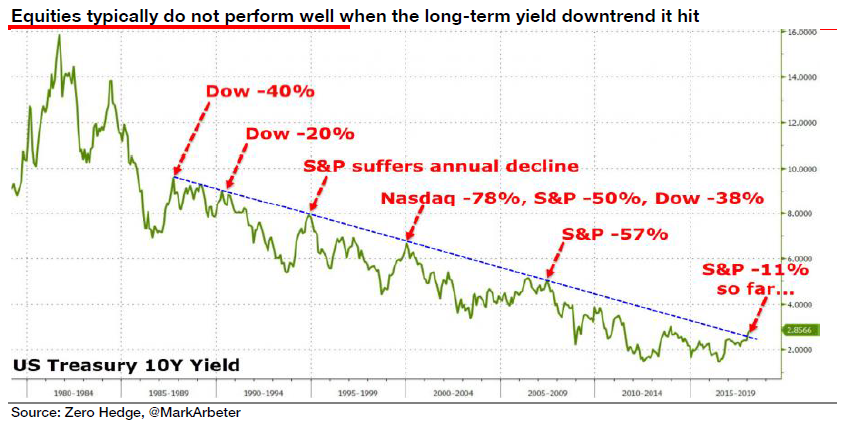 "Whatever the arguments are in favour of tax reform in the US (and there are many)," Edwards adds, blaming
Donald Trump's new budget
for worsening the inflation scare and sell-off in bonds, "this is probably the singularly most irresponsible macro-stimulus seen in US history.
"To say it is ill-timed and ill-judged would be a massive understatement."
With the US Dollar falling again Thursday, the price of gold touched 3-week highs at $1356 per ounce but slipped in terms of other currencies.
Gold priced in Euro terms fell €5 from its highest since 25 January at €1090 per ounce.
Closing "sharply higher" on Wednesday, Dollar gold prices now face "new resistance at $1357.60, the September high," says the latest technical analysis
from bullion bank Scotia Mocatta
's New York office.
"Gold has tested the overnight high of $1355 a couple of times," says Swiss refiner MKS
Pamp's Asian trading note
, "[but] volumes are pretty thin with [Shanghai] closed for Chinese New Year.
"On the topside, a break above yesterday's New York high should see the metal testing the January [intraday] high at $1365."
"[After] gold failed to confirm the [longstanding and potentially bullish] multi-year
inverse Head and Shoulders [pattern]
at $1356," says a note from Albert Edwards' technical analysis colleagues at SocGen, posted before Wednesday's inflation-data spike, "it has started staging a recovery and has crossed above a descending trend.
"The next hurdle [still comes] at $1356."