GOLD BULLION slipped against a weakening US Dollar in London trade Tuesday, falling harder for Euro investors ahead of the US mid-term election results as news reports from India confirmed poor festive demand for Dhanteras at the No.2 consumer nation's jewelry stores.
Priced in the Dollar gold bullion edged back down to $1228 as newscasters looked for early Senate and House results later this evening.
Gold priced in the Euro meantime fell to €1075 as Wall Street ticked higher but European stock markets again moved opposite to Asian equities, falling some 0.4% for the day.
"The recent sharp increase in [Rupee gold] prices
could weigh on the consumer wallet
, limiting purchases during this season," says P.R.Somasundaram, managing director for India at the mining-industry's World Gold Council.
With the peak gold-buying season of Diwali culminating on Wednesday, "Demand for gold on [Monday's] Dhanteras was
sluggish across the country
," agrees
India Today
, "with [only] Delhi and Mumbai swimming against the current."
But rural gold demand counts most however, counters the Economic Times, noting that less developed regions of the world's most populous nation account for 60% of its annual bullion off-take.
"Firm prices and a liquidity crunch in the [Indian bullion] market have flattened demand on India's gold-buying festival Dhanteras," the paper adds, reporting
a shift to light-weight jewelry
by consumers.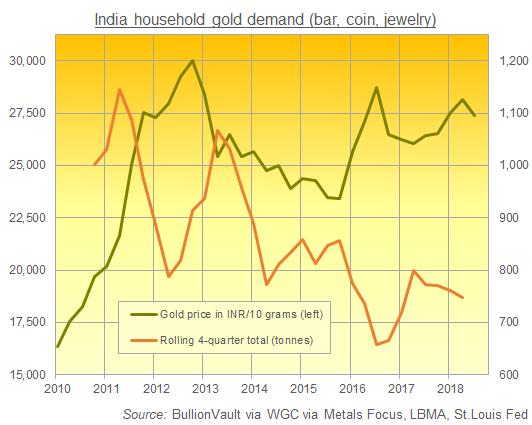 "Dhanteras sales this year is expected to be flat though it is better than the last few months when demand was muted," says Nitin Khandelwal, chairman of the All India Gem & Jewellery Domestic Council.
"Rural sales may not see a significant increase over last year, as farmers are yet to get [minimum support price]" from the government for this year's harvest.
"When small neighbourhood jewelers say that sales have dropped, that may be true.," adds Saurabh Gadgil of PNG Jewellers, also a director of the India Bullion & Jewellers Association.
"But there is a marked shift in customers
from the unorganised to organised sector
. People prefer to buy from stores that offer better quality…a variety of designs, certification, after sales [care] and buyback."
Faced with consistently large outflows of currency to pay for India's imports of gold bullion, the New Delhi government has tried a variety of
ways to curb household demand
over the last 5 years.
The 3 so-called "gold policies" of 2015 "
were picked out of a hat
," said Rajesh Khosla, head of refiner MMTC Pamp, at last week's LBMA conference in Boston.
Looking to formalize much more of the industry, and encourage direct imports of gold doré for refining into bullion, "The new and comprehensive 2018 policy document took 58 years to come, but is much more significant," Khosla said.
Fearing a block on its gold bullion reserves meantime, the government of Venezuela is looking to
withdraw its remaining holdings
from the Bank of England in London, Reuters claims from Caracas, citing un-named sources.
Last week the United States imposed new sanctions against Venezuela's president, Nicolás Maduro, saying that the Trump White House is
committed to "fighting dictators
performing atrocities in neighbouring countries."
The US sanctions are "crazy" and "schizophrenic", replied Maduro overnight, rebuking action against Venezuela gold exports by saying Caracas is now certifying 32 gold fields that will make Venezuela "the second largest gold reserve on Earth".
Priced in the British Pound, gold meantime erased the last of late-October's 3.3% jump on Tuesday as Sterling rallied again on the FX market despite Brussels and London 
confirming a lack of progress
 towards a Brexit deal.