GOLD BULLION touched new 8-week lows against a rising US Dollar on Wednesday, coming within $3.20 of early May's bottom at $1214 per ounce as world stock markets rose yet again with Eurozone government bond yields.
Platinum dropped to $902 per ounce – erasing the last of 2017's earlier 16% gain versus the US Dollar – while
silver prices
fell 7 cents through what Swiss refiners MKS Pamp in a trading note this morning called "
psychological support
" at $16 per ounce.
South Korea and the United States meantime
held a joint missile drill
following yesterday's test of a new ICBM by Communist dictatorship North Korea.
After calling on Beijing to pressure Pyongyang into ending its nuclear program, "Trade between China and North Korea grew almost 40% in the first quarter," tweeted US President Donald Trump today.
Trump is set to meet China's Communist Party leader Xi Jinping at the G20 summit in Hamburg this week.
Beijing will
likely agree "to punitive sanctions
against North Korea" at today's emergency meeting of the United Nations Security Council, reckons international relations specialist Professor Shi Yinhong, speaking to the
Sydney Morning Herald
.
But it won't meet all US demands, he believes, and "faces a severe predicament."
"Gold is under considerable pressure as central bankers have essentially signaled the end of years of ultra-loose monetary policies," says James Steel – analyst at US investment bank, bullion market maker, and London vaulter HSBC – pointing to last week's comments from US, Eurozone and UK policymakers on global 'reflation'.
"Climbing yields traditionally bring an end to gold rallies."
"The market's
in a tug of war
between this reflation narrative [and] rising geopolitical tensions and that's showing in Dollar-Yen," said US investment bank Merrill Lynch's currency strategist Kamal Sharma to Bloomberg overnight, referring to North Korea's latest missile test.
The Yen currency of neighboring Japan today touched its weakest level against the US Dollar since mid-May, losing over 4% of its value since mid-June's two-month high.
Gold's correlation with the Yen – widely remarked by analysts earlier this year – yesterday extended its recovery from mid-June's drop as both bullion prices and the Japanese currency fell in tandem versus the Dollar.
Touching 0.91 on a rolling 1-month basis Tuesday, gold's correlation with the Yen has risen sharply since Donald Trump won the US presidential election last November.
It would read 1.00 if gold priced in Dollars and the Yen's Dollar value moved in lockstep with each other.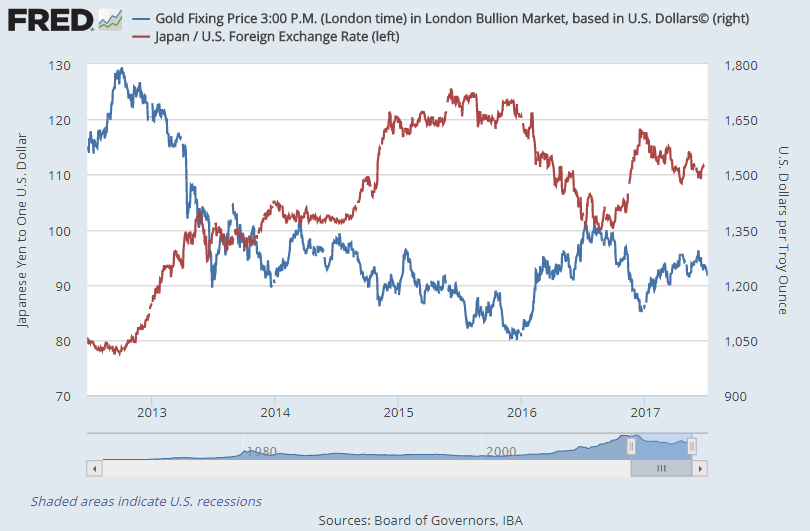 Meantime for Shinzō Abe – Japan's Prime Minister and grandson of the US-declared war criminal
who led "punitive action" against
the troops of North Korean leader Kim Jong-un's grandfather during WWII – last weekend's "[electoral] defeat in Tokyo [by] the upstart Tokyo Residents First Party is a humiliation," says FX strategist Steven Barrow at Chinese-owned investment and bullion bank ICBC Standard.
"The [US] Fed, for instance, is now into its third [interest-rate] tightening cycle since the early 90s; Japan has barely had one."
For gold prices, "Confirmation level of a possible double top at $1214 will be a crucial support," says the latest chart note from French bank and London bullion market makers Societe Generale, pointing to the April and then June highs at $1295 per ounce as a possible trigger for what technical analysts call a 'bearish reversal pattern'.