GOLD BULLION fell hard in London trade Tuesday, extending the last 2 sessions' drop from multi-year highs as the British Pound jumped but stock markets failed to repeat yesterday's strong rally on new polls showing Thursday's UK referendum on EU membership will reject Brexit.
Touching $1315 per ounce last week, gold priced in the US Dollar today retreated to $1270, dropping 2.5% from yesterday's start.
Oil prices led another 1.5% drop in broader commodity markets, while silver slipped 1.5% from last week's finish to trade at $17.22 per ounce.
Eurozone government bond yields edged up but US Treasury yields slipped to 1.67%, holding well above last Thursday's 4-year low at 1.57%.
"With the 'remain' campaign now seemingly back in the lead," says strategist Jonathan Butler at Japanese conglomerate Mitsubishi, "gold has retreated, Sterling has advanced the most since 2008, and equity markets have rallied.
"Choppy trading is likely in the days ahead…A vote to remain is likely to be short-term bearish for gold…A leave vote may well see gold rally strongly."
With the British Pound jumping to new 2016 highs overnight, gold bullion sank to £861 per ounce for UK investors, a drop of almost 8% from last Thursday's 3-year high.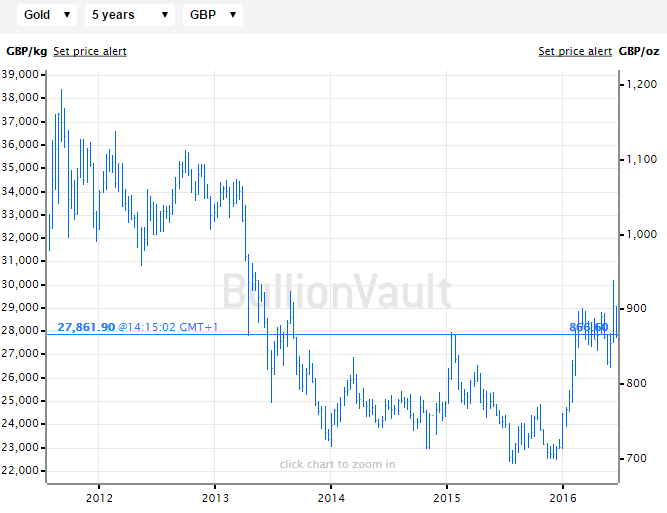 Shanghai gold bullion prices fixed unchanged from Monday in Yuan terms, but a fall in the Chinese currency slashed their premium to international Dollar quotes almost to zero.
UK bookmakers Ladbrokes said betting on Thursday's vote – due to show a clear result around 5am Friday – now puts the
odds of Remain at 82%
.
One
new opinion poll
meantime said the Remain camp's lead is widening but another left it "too close to call".
On a Brexit vote "we expect prices to rise by as much as 10% to $1400," says a note from French investment and bullion market-making bank Societe Generale, "with follow-through strength extending to the rest of the precious metal sector.
"[But] if the British vote to remain in the EU, we are likely to see the gold price retreat when the dust settles, particularly given the lack of physical support from key markets in Asia so far this year."
"It is not a given that we will see a significant gold correction, even if the UK voters decide to stay in the EU," counters a
commodities trading note
from Canada-based TD Securities, explaining how "once the market takes stock after the referendum" investors will still find many major government bonds yielding less than zero.
"A dovish outlook from the [US Fed's] FOMC, with possibly only one hike this year, should continue to be a catalyst for strong gold markets."