GOLD BULLION rallied 0.6% against the US Dollar at the start of London trade Tuesday, but fell again versus the Euro after European Central Bank chief Draghi vowed "constant stimulus" to support growth in the single currency's 19-nation bloc.
Government bond prices fell across the board but most sharply on Euro debt, pushing 10-year German Bund yields up to 1-month highs of 3.12% per annum as
Italian yields shot higher
from yesterday's 5-month lows.
The Euro meantime shot up towards this month's post-Donald Trump victory highs above $1.12 to the Dollar, pushing the gold price for German, French and Italian investors down near its lowest level since the start of 2017.
Recovering two-third of yesterday's $20 per ounce loss, gold priced in US Dollar traded around $1250 – just over 1% higher than its 2017 average to date – as New York opened for business.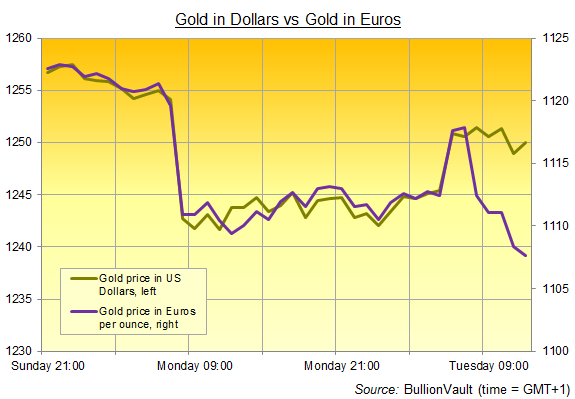 "We can be confident that our policy is working and its full effects on inflation will gradually materialise,"
said ECB president Draghi
at the start of a central bank forum at its HQ in Frankfurt, Germany on Tuesday morning.
Despite growing analyst chatter over a possible 'tapering' of the ECB's money-creation QE scheme however, "For that, our policy needs to be persistent," Draghi went on, "and we need to be prudent in how we adjust its parameters to improving economic conditions…to ensure that our stimulus accompanies the recovery amid the lingering uncertainties."
Global stock markets fell again, pulling the EuroStoxx 50 index down 3% from early May's 2-year high.
Crypto-current Bitcoin also fell again, extending its loss from mid-June's new all-time high to more than one-fifth in US Dollar terms, but held 270% higher from this time last year.
The release of Draghi's speech coincided with the afternoon gold price benchmarking in Shanghai, which also coincided with a sharp rally in the Chinese Yuan from 1-month lows in its FX rate vs the Dollar.
Shanghai's PM Fix rose 0.3% from Tuesday morning's 6-week low in Yuan terms, holding the price of gold bullion landed in the world's No.1 consumer market at an equivalent $9.50 premium per ounce over comparable quotes in London, heart of the world's wholesale trade.
New data yesterday said mainland China imported 45 tonnes of gold bullion in May through the city of Hong Kong – set to mark the
20th anniversary of its handover from Britain
this weekend – reports German finance group Commerzbank.
"This was almost 40% less than in the month before, and a good 60% less than last May," Commerzbank says, "though that was admittedly a month of unusually high imports."
Year-over-year, analysis by BullionVault puts China's imports of gold bullion through Hong Kong some 15% below this point in 2016 for the sharpest annualized decline since summer 2015.
China's Communist Party regime has since 2014 allowed direct but unstated imports of gold bullion to Beijing, as well as through the industrial and financial centers of Shenzen and Shanghai, all reducing Hong Kong's dominance of the trade.