GOLD BULLION prices rose a second year running in 2017, ending December at the highest annual close in US Dollar terms since the peak of 2012.
Having
risen 9.1% in 2016
in Dollar terms, gold bullion finished 11.9% higher again in 2017, its strongest gain since 2010 for US investors.
Fixing at $1296.50 per ounce at Friday morning's London benchmarking, gold bullion recorded its second highest-ever annual finish, lower by more than a fifth from 2012's peak year-end price of $1664.
Friday's US trade then saw gold bullion priced for 2-day 'spot' settlement rise above $1300 per ounce, the highest level since mid-October.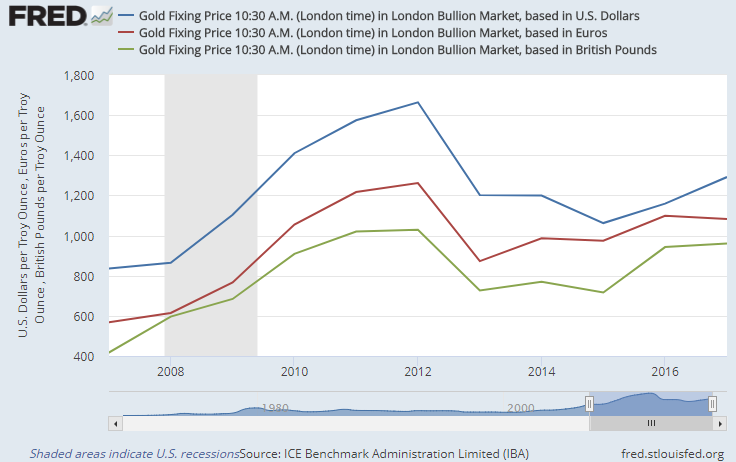 Across 2017 as a whole the annual average gold price was $1257.09 per ounce.
Barely $6 per ounce higher from 2016, that was called almost to the dollar by Bart Melek of brokerage TD Securities in this year's
LBMA Forecast competition
, just ahead of Thomson Reuters GFMS's Ross Strachan's average price forecast and just 1.0% away from the average prediction made by bullion market analysts in January.
The single Euro currency's strong 2017 saw gold prices slip slightly for French, German, Italian and Spanish investors, down 1.4% at Friday's AM benchmarking from the end of last year.
"A wilting US Dollar, political tensions and receding concerns over the impact of US interest rate hikes fed into [gold's] rally,"
says Reuters
.
Global equities rose nearly twice as fast as gold bullion in 2017, adding 20.1% on the
MSCI World index
.
US shares, as measured by the
S&P500 index
, rose 19.4%. The sharpest annual gain since 2013, that extended the stock market's run of year-on-year gains to nine – the second-ever longest bull market in US equities.
"Powering the broad market's gain was an economic recovery that reached every corner of the globe,"
says USA Today
.
In the US, "rising GDP boosted corporate earnings, pushed consumer confidence to a 17-year high and slashed the jobless rate to its lowest level since 2000," the paper says.
E-commerce sales rose 18.1% on Mastercard's data, with Amazon (Nasdaq:AMZN) taking "45%-50% of holiday online sales vs. 38% in 2016," according to GBH Insights, boosted by selling "tens of millions of Alexa-enabled devices" in what the e-tail giant called its "best holiday yet".
So-called "digital asset" Bitcoin – "in
no way a currency
or even a crypto-currency" according to French central bank chief François Villeroy de Galhau, speaking earlier this month in Beijing – meantime touched
a new 3-week low
on Saturday beneath $12,200.
Losing over one-third from mid-December's near $20,000 all-time peak, Bitcoin has still risen almost 12-fold in 2017.