GOLD BULLION rallied $8 per ounce from yesterday's 1-week low of $1315 on Wednesday morning as world stock markets steadied from their latest drop following stronger-than-expected bank lending data from China.
The People's Bank said new lending in the world's second-largest economy – and its largest gold bullion consumer – jumping 13% year-on-year in August, the fastest pace since March.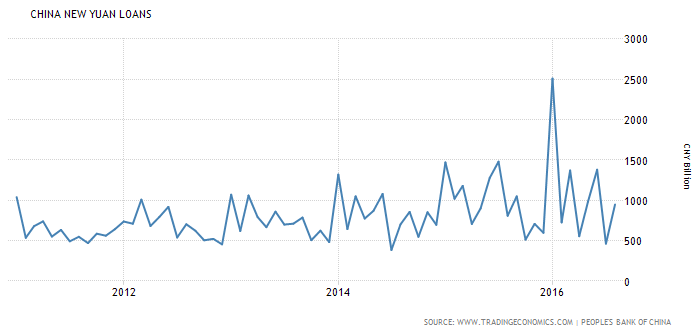 European stockmarkets stabilized after Wall Street closed 1.5% lower overnight, but ahead of next week's US Federal Reserve decision on Dollar interest rates, global equities held some 2.5% down from this time last month.
"Gold is an option on the ineffectiveness, dare I say
the stupidity of politicians
," said New York financial advisory Pension Partners' CIO Edward Dempsey to CNBC overnight.
"The long end of the [interest-rate] curve is starting to sniff out a lot of fiscal stimulus [and] there's a lot of populism [in Western politics] which will equal stimulus.
"[That] would be not very good for all that negative-yielding long debt but would be positive for gold."
Ahead of Thursday's Bank of England rate decision, "Attachment to the belief that the policy [interest] rate is all-powerful…
stems from a fear
of the redundancy of monetary policy," writes fund manager and economist Eric Lonergan.
"This is erroneous. Monetary policy must simply be used to raise aggregate demand in other, more direct, ways," says the author of 2014's Money, which called for central banks "to be given helicopters" – a reference to the idea of
creating and gifting money directly to government
or private households to boost growth, rather than using it to buy assets under central banking's current Quantitative Easing schemes.
India is meantime expected to report its
first current account surplus
with the rest of the world since 2007 for this calendar quarter, reports Reuters today, thanks primarily to lower imports of oil and gold.
India's formerly world-leading gold demand sank in Q2 from the same period last year, according to data compiled by specialist analysts Thomson Reuters GFMS, with the traditionally strong Akshaya Tritiya festival proving "uneventful" for retailers and failing to stem the quarter's 56% year-on-year drop in jewelry buying.
India's gold investment demand also fell, down 40% year-on-year. The strongest period for gold bullion and jewelry demand is scheduled to peak with end-October's Diwali festival.
UK data meantime showed
a record 74.5% employment rate amongst the working-age population, while average wage growth slowed to 2.3% per year in the 3 months to July, just after the Brexit referendum.
Employment in the UK public sector fell to 16.5% of the working population,
a record low
down from 20% a decade ago.
Public spending on private-sector contracts
almost doubled
however during the 5 years of the Conservative-Liberal coalition government starting 2010.
Although dipping slightly in the first 6 months of 2016, UK government outsourcing in I.T. and business procesing rose 55% by cost in the second-half of 2015 according to data from management consultancy and 'solutions' firm Arvato.
Elsewhere, Russian-based VTB Bank – the country's second largest lender according to newswire reports –
has secured a deal to sell
15-20 tonnes of gold bullion into China over the next 12 months.