GOLD BULLION
peaked within $3 of $1300 per ounce early Thursday, just $1 shy of making a new 7-month high, after 4 senior officials from the Federal Reserve said separately that the US central bank will now be "patient" before raising interest rates in 2019, repeating the
sudden change in message
made by Fed chair Jerome Powell last week.
Unlike last Friday however, US stock-market futures
pointed down ahead
of Thursday's opening, tracking European equities lower and erasing yesterday's gain after new data showed price inflation receding faster than expected in world No.2 economy China.
A statement from Beijing on the US-China trade talks ending yesterday meantime showed
only "modest progress"
according to analysts, while the US government shutdown – set to become the
longest in history
this Saturday – looked set to continue as President Trump failed to make any progress talking with Democrat opponents.
Just left a meeting with Chuck and Nancy, a total waste of time. I asked what is going to happen in 30 days if I quickly open things up, are you going to approve Border Security which includes a Wall or Steel Barrier? Nancy said, NO. I said bye-bye, nothing else works!

— Donald J. Trump (@realDonaldTrump) January 9, 2019
"A patient approach to monetary policy adjustments is fully warranted in light of the uncertainties about the state of the economy," said non-voting policymaker Raphael
Bostic of the Atlanta Fed
in a speech Wednesday.
"That is what I mean by data dependence."
"The Federal Reserve's current monetary policy seems appropriate for now," agreed voting member Eric
Rosengren of the Boston Fed
, "and [we] can patiently observe future economic developments."
"Because inflation is not showing any meaningful sign of heading above [the Fed's target pace of] 2%," added the
Chicago Fed's Charles Evans
– also a voting member of the Federal Open Market Committee in 2019 – "I feel we have good capacity to wait and carefully take stock of the incoming data and other developments."
Preceding each of the last nine US economic recessions, a series of Fed interest-rate hikes has also preceded 5 of the last 7 periods of year-on-year losses in US stock markets.
Last fall's plunge in world stock markets saw the price of listed US corporations turn a 17.6% annual gain in August into a 7.9% loss for 2018 by year's end.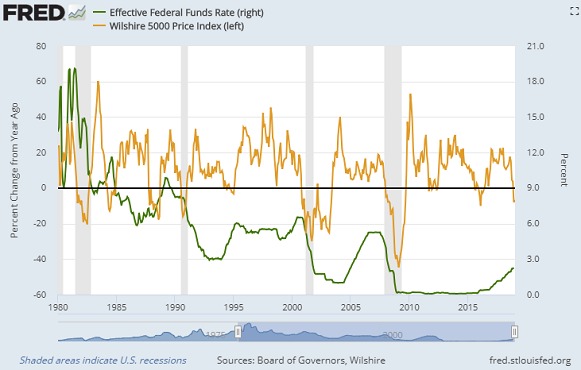 St.Louis Fed chief James
Bullard – a long-time 'dove'
and now a 2019 voting member on the FOMC from the January 29-30 meeting – says in an interview published in today's
Wall Street Journal
that the Fed "is bordering on going too far and possibly tipping the economy into recession" if it raises again.
"We've got a good level of the policy rate today…The committee is coming to my view on this."
Newly released
meeting notes from the Fed's December meeting
, when the US central bank raised overnight Dollar rates for the 4th time in 2018 to a 10-year high of 2.50%, meantime showed the FOMC swapping the word "expects" for the word "judges" in last month's policy statement "to better convey the data-dependency of the Committee's decisions regarding the future stance of policy."
With the US currency falling against its peers on Thursday, gold bullion prices were more muted outside the Dollar.
Euro gold prices held in a tight band €2 either side of €1120 per ounce, while the
UK gold price in Pounds per ounce
crept back above last week's closing level at £1010.
With 77 days to go until Brexit, UK lawmakers continued Thursday to argue over points of order in Parliamentary proceedings, and UK opposition Labour Party leader Jeremy Corbyn called for a general election.
Gold bullion rallied meantime for Canadian investors, but held 3% below last week's leap to November 2016 levels, after the central bank
held Loonie interest rates unchanged
, saying it wants to see "how the outlook evolves" in 2019.