GOLD BULLION fell to 5-week lows against a rising US Dollar in London trade Wednesday, dropping as world stock markets caught up with yesterday's fall in New York's stock market.
Ahead of tomorrow's policy decision from the European Central Bank, the Euro price of gold was unchanged around €1084 per ounce, little moved from one or three months ago.
But slipping to $1320 for US investors as New York opened today, gold traded 1.2% below last week's finish in Dollar terms.
Silver prices meantime fell more heavily than gold bullion, losing 3.3% for the week so far to hit $16.54 per ounce.
That pushed the Gold/Silver Ratio of the two metals' relative prices back up towards 80 ounces of silver per 1 ounce of gold.
Gold also held near record highs relative
the price of platinum
, trading more than $400 per ounce higher than that primarily industrial metal.
"Gold opened
on the back foot today
," says Wednesday's Asian trading note from Swiss refining and finance group MKS Pamp, "with a stronger USD providing some headwind for the metal."
"Persistent Comex selling [of gold futures and options contracts has] continued the pressure."
Among investment products, the size of the SPDR Gold Trust (NYSEArca:GLD) was unchanged Tuesday for the 8th day running, needing just less than 866 tonnes of bullion to back the value of its shares in issue.
Now around two-thirds of the GLD's all-time peak size of late 2012, that was 1 tonne below the exchange-traded gold fund's largest size since the UK's shock Brexit referendum result of mid-2016, when Dollar gold prices hit what remains the highest level of the last 4 years at $1375 per ounce.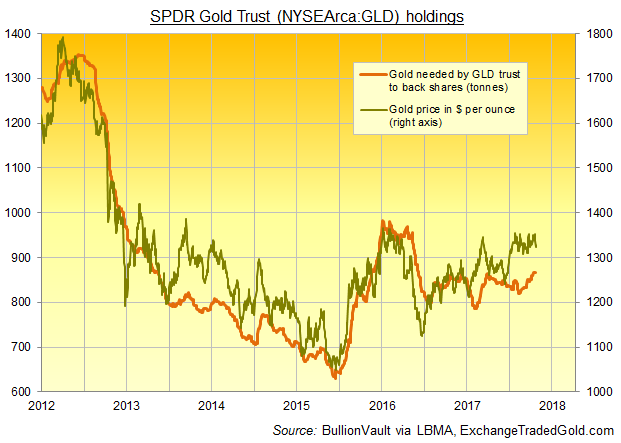 Interest in the world's largest silver-backed ETF in contrast – the iShares Silver Trust (NYSEArca:SLV) – held Tuesday at its lowest level since late-February, needing 9,856 tonnes of bullion.
That first-quarter increase was in line with Fresnillo's forecast growth for a second consecutive annual record across 2018 of some 2,000 tonnes.
Gold prices in China – the largest mining, importing and consumer nation – slipped Wednesday to their lowest level against the Yuan since the start of this month.
Relative to Dollar quotes for London settlement, that kept the Shanghai premium around $7.50 per ounce, some 15% below the typical incentive for new bullion imports.
Direct gold imports to the Chinese mainland from global refining center Switzerland fell 40% last month from February says German financial services group Commerzbank, citing Swiss Federal Customs data, but imports through Hong Kong rose sharply.
Dollar gold prices now have "key mid-term supports" from the 100- and 200-day Moving Averages according to a technical analysis from French investment and London bullion market-making bank Societe Generale, pointing "near $1317 and $1308/1300" respectively.