GOLD BULLION held flat against a falling US Dollar on Wednesday, trading at $1290 per ounce as Madrid delayed taking control of breakaway Spanish region Catalonia after the governor in Barcelona delayed a formal proclamation of independence.
New Japanese data showed strong growth in orders for both machinery and machine tools.
Major government bond prices edged down with global stock markets, nudging borrowing costs higher.
"We expect that geopolitical tensions will remain an important theme for 2018," says a new gold outlook from French investment and bullion bank Natixis.
"But the effect on precious metals will be limited…[and] we see a world in which nominal rates rise but inflation is relatively flat, leading to rising real rates.
"We also expect for the Fed to raise rates twice and for the ECB to start executing its plans towards normalisation."
Betting on US Fed rates after September 2018's policy meeting now shows a 41.2% forecast for a total of 3 hikes between now and this time next year, almost twice its level of four weeks ago on the CME's FedWatch tool.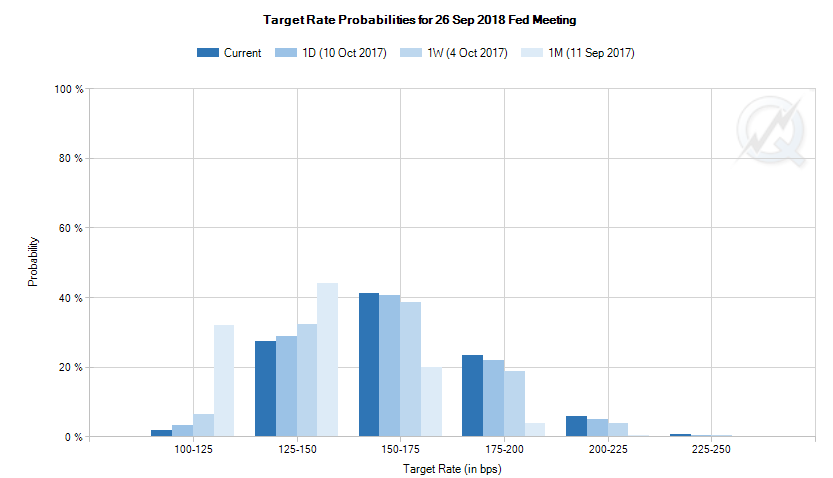 "Yes," says a note from Australian bank Macquarie, "the Fed will have to raise rates – growth remains higher than trend – but this is becoming true elsewhere.
"[So] we think the
Dollar is more likely to weaken
than strengthen [and] we remain skeptical the US administration can restore US economic outperformance."
After New York equities meantime closed near last week's fresh all-time highs overnight, Asian and European shares slipped further on Wednesday.
Spain's Ibex 35 index
bucked the trend, rising another 1.3% following Catalan leader Carles Puigdemont proclaiming but "suspending" independence for the north-eastern region.
Spanish prime minister Mariano
Rajoy today asked Puigdemont to confirm
or deny whether his speech on Tuesday was in fact a declaration of independence, threatening to invoke Article 155 of the national constitution and taking all regional powers back to Madrid.
Spanish opposition leader Pedro Sánchez of the socialist PSOE said today he would support Rajoy moving on Article 155.
Spain's benchmark 10-year bond yields retreated from a 1-week high above 1.70%, holding just 0.1 percentage point higher for 2017 to date.
"[This] somewhat calmer situation may prove only temporary," says a commodities note from Germany's Commerzbank.
"We believe that gold should therefore remain in good demand."
Gold bullion priced in the Euro currency retreated 0.6% on Wednesday from yesterday's 2-week high at €1096 per ounce.
Sterling gold prices meantime held flat for the week so far at £977 per ounce after UK chancellor Philip Hammond said he
won't spend money on planning
for a "no deal" Brexit from the European Union until nearer the March 2019 deadline for negotiations to end.