GOLD BULLION gave back a 0.6% rally in London lunchtime Tuesday, retreating as new US data confirmed that tomorrow's Federal Reserve decision on raising interest rates will come as price inflation rises at the fastest pace in 5 years.
Versus a rising US Dollar gold bullion touched $1207 per ounce before easing back, but held above Friday's 5-week lows beneath the $1200 mark.
Silver prices meantime fell again below $17 per ounce, 
Led by crude oil and other energy costs, the
US Producer Price Index
– compiled by the Bureau of Labor Statistics to show the change in sales prices realized for domestic-made goods and services – jumped to 2.2% annual inflation in February, the fastest pace since March 2012.
Data for US Consumer Price inflation – last reported at a
5-year high of 2.5% per annum
,  above the Fed's 2.0% target – are due tomorrow, just before the Fed's decision.
Analysts' consensus forecasts predict a reading of 2.7% for February's CPI, the fastest acceleration since Feb' 2012.
Energy prices fell Tuesday however, with crude oil – after hitting 18-month highs in February – extending the last 3 weeks' slump after new data showed Saudi Arabia reversing one-third of January's cut last month.
US Treasury bond yields also retreated Tuesday as energy prices fell, pulling the 10-year yield down from 20-month highs above December's 2.60% peak, set when gold prices hit near 2016-lows at $1160 per ounce.
Adjusted for market-based inflation forecasts, real 10-year yields have yet to reach December's 11-month highs above 0.74% per annum.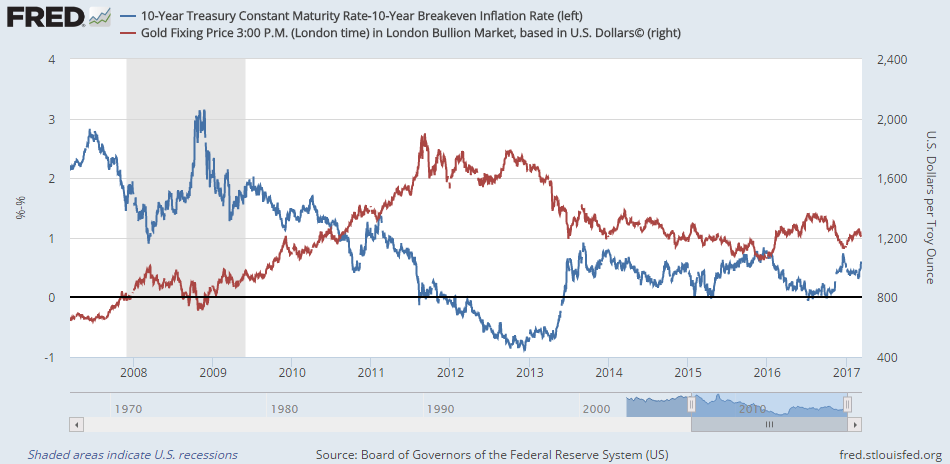 Gold, silver and
platinum prices
remain in a bear market, according to a note from analysts at US investment bank Morgan Stanley, thanks to "stable global growth and
proactive inflation management
" by central banks led by the Fed.
Rival Goldman Sachs thinks investors should stay bullish on raw materials, because "concerns" over slower Chinese growth "are misplaced…
"The market needs a little patience to wait for the fundamentals to materialize."
The Bank of England's second most senior policymaker meantime resigned today after Charlotte Hogg, daughter of
former MP and now unelected lord
Douglas, 
admitted failing to disclose
her brother's investment banking job at Barclays (LON:BARC) – one of the 3 largest institutions overseen by the deputy governor's team  – breaching a 'conflict of interest' rule she herself wrote.
The Bank of England is due to announce its latest rates and QE policy on Thursday, just as UK prime minister Theresa May has finally
got approval from lawmakers
 to trigger the 2-year Article 50 exit from the European Union.
Gold bullion priced in Sterling today rallied back to last week's finish at £990 per ounce as the Pound fell again on the FX market following the Brexit Bill being passed by Parliament.