GOLD BULLION rose sharply to near 5-month highs in London trade Tuesday morning, setting its highest London benchmark price since 10 November – the day after Donald Trump's US election victory –as major government bond prices also rose, pushing bond yields down to multi-week lows amid growing jitters over this month's French presidential vote.
Benchmark German Bund yields retreated to 5-week lows of just 0.24%, and 10-year US Treasury yields fell to 2.32%.
That cut the real rate of interest on US bonds, over and above market expectations for inflation, further below last week's 1-month lows.
Gold prices in London's wholesale bullion market
fixed this morning
at $1258.65 per ounce, 1.0% higher from Monday's auction.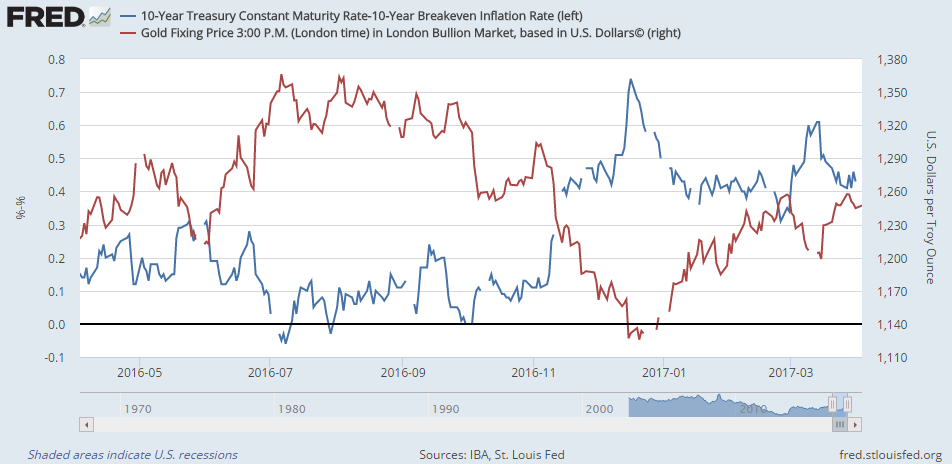 World stock markets meantime held flat for a second day overall, while commodities ticked higher, pushing US crude oil back above $50 per barrel.
Silver tracked the rise in gold bullion, also nearing its highest price of the 20 weeks since Donald Trump won the US presidential election at $18.34 per ounce.
Platinum prices
failed to rally in contrast, trading at a near-record $298 per ounce discount to gold as the start of US business approached.
"Gold [faces] a probable double top near $1264," says the latest technical chart analysis from French investment and bullion market-making bank Societe Generale, pointing to the Dollar price's 200-day Moving Average.
"A break above is needed for an extended rebound," says SocGen, pointing to a possible target above $1300 per ounce.
Gold priced in Euros  meantime hit €1181 per ounce at Tuesday's AM fixing in London – its highest since 1 March – as a new French opinion poll said anti-Euro, anti-EU candidate Marine Le Pen is neck-and-neck with social democrat centrist Emmanuel Macro on 25% each for this month's first round of the presidential election.
"Macron would go on to beat Le Pen in the second round," says the poll from Le Monde/Cevipof – "one of the biggest samples among the many regular surveys,"
according to Reuters
– with the former Minister of the Economy, Finance and Industry set to beat the nationalist "by 61% to 39% on 7 May."
"If there's one lesson from the Brexit and Trump experience," writes cross-asset analyst, former Lehman Brothers' VP and now regular CNBC guest Larry McDonald, "it's
don't listen to establishment
(bias) tainted polls.
"Traders are starting to put election hedges back on…even as polls continue to show euro-skeptic Marine Le Pen will lose in May's second round," he adds, pointing to another sharp widening of
French 2-year bond yields over
the rates offered by comparable German Bunds.
While the odds of Le Pen winning the final round 
currently look low
, says a note from fixed-income analyst Merveille Paja at US investment bank J.P.Morgan, her stated policy of "Frexit would create balance sheet stress and solvency challenges…[and] a FX redenomination…which would likely lead to higher yields in French bonds.
"This is a big risk given the fiscal deficit in France."
Gold priced in Sterling also touched its highest prices on Tuesday since the end-February highs, rising above £1011 per ounce as a committee of MPs asked the Government to back up its claims that "no deal will be better than a bad deal" after the 2 years of Brexit negotiations triggered last week.
Six of the Brexit committee's 14 members refused to stand behind the report however, calling it "
skewed and partisan
."
Best-selling UK newspaper
The Sun
meantime said "
Up yours senors
" across a photo of the Rock of Gibraltar on its front-page today, referring to Madrid's stance on the UK output amid the Brexit negotiations and also alluding to
The Sun
's famous 1990 "Up yours Delors" headline.
An advert appears just above today's headline, promoting cut-price holidays to seven EU nations, including Spain.