GOLD BULLION prices held above $1200 per ounce for US Dollar investors in London trade Friday but neared the end of August lower for the fifth month running.
Matching the worst runs of gold's 1990s' bear market, that stretch has only been beaten once – back in 1989 – since benchmark London bullion prices were
allowed to float half-a-century ago
.
"The ongoing outflows from ETFs, record high speculative shorts and upbeat US economic data are still the major headwinds for gold and signify the recovery might be short- lived,"
Reuters quotes
Religare Securities analyst Sugandha Sachdeva in New Delhi.
"Sustaining higher prices looks difficult in the near term," she tells Mint.
Even with retail gold demand in the No.2 consumer market now "picking up" ahead of the coming Hindu festive season, "gold is selling at a premium of [just] $1 per ounce in [India's] domestic market" reports the Economic Times today.
"We might not see investment demand for gold in the upcoming festive season," reckons jewelry tycoon Joy Alukkas of the eponymous chain store. "It will
only be jewellery sales
."
Over in the United States, the giant SPDR Gold Shares (NYSEArca: GLD) saw net liquidation yet again on Thursday, shrinking for the 15th of 22 sessions in August to need fewer than 758 tonnes of bullion backing, the lowest since late-February 2016.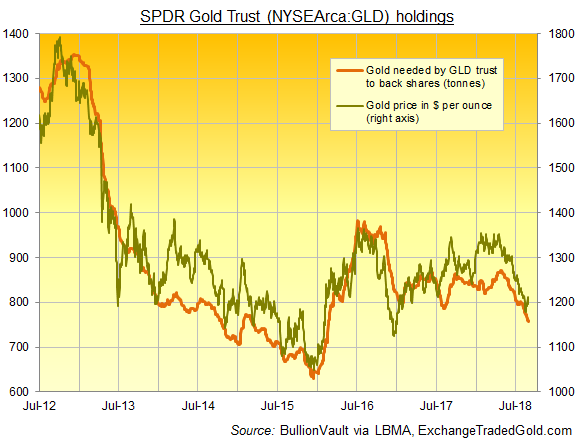 After US data yesterday said the Federal Reserve's preferred measure of inflation has risen to its target pace for the first time in 6 years, new data on Friday showed inflation in the 19-nation Eurozone – the world's largest currency bloc by economic output – slowing this month, also now running at 2.0% per annum.
The Euro erased the last of this week's earlier 0.8% gain versus the Dollar on the news, trading back below $1.1650 and holding the gold bullion price for French, German and Italian investors just above €1033 per ounce.
Down €4 from last Friday's finish that was €10 above mid-August's 31-month low.
Asian and European equities extended yesterday's drop on Wall Street, pulling Japan's Topix index almost 7% lower for 2018 so far while the EuroStoxx 50 traded almost 3% down from New Year.
Overall the
MSCI World Index
of global stock markets fell for a second day running after coming within 2.5% of January's record peak on Wednesday, thanks to the new all-time US highs.