GOLD BULLION halved last week's loss against the Dollar Tuesday lunchtime in London, rising to $1265 per ounce as the US currency fell once again on the FX markets and base metal prices jumped to a series of multi-year highs.
Silver also rallied with gold bullion – gaining 10 cents per ounce to trade at $16.40 and recovering one-fifth of last week's drop – while
platinum prices
pushed up to their highest since April at $975.
After Chinese steel prices hit 4 years highs on Friday, zinc prices today rose almost 4% in Shanghai trade as London copper contracts held near 2-year highs.
"Of the major commodities," Reuters quotes analyst Daniel Hynes at Australia's Macquarie Bank, "only coal has failed to record strong year-to-date growth rates in [Chinese] imports."
New data Tuesday however showed China's exports slowing hard in July as the Dollar fell towards 3-year lows.
So too did international sales of goods from Germany – the other major surplus country previously named by President Trump's economic team
as "currency manipulators".
Data released Monday showed US consumer debt growing in June at the slowest annual pace since 2012.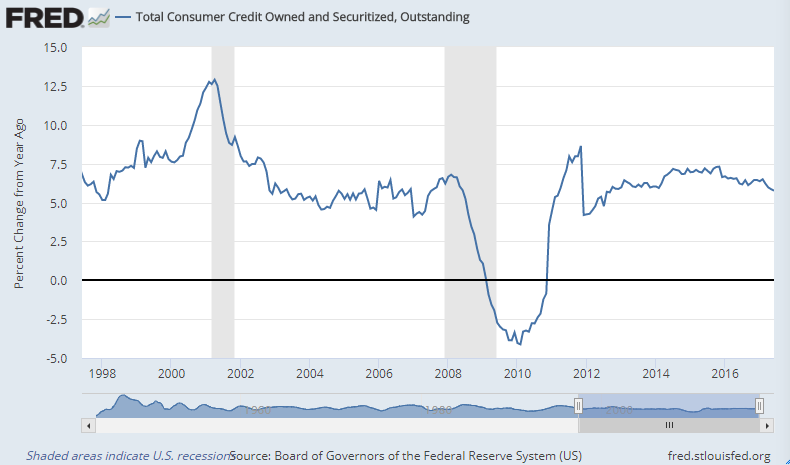 "Recent data indicate that real US GDP growth remains consistent with the low-growth regime of recent years," said US Federal Reserve Bank of St.Louis president James
Bullard in a speech
Monday.
"US inflation has [also] surprised to the downside," said Bullard – not a voting Fed member until 2018 – "[and so] the current level of the policy rate is likely to remain appropriate over the near term."
The odds of a rate hike at September's US Fed meeting have sunk from 1-in-8 this time last month ago to less than 1-in-70 today
according to betting on futures contracts
tracked by derivatives exchange the CME Group.
World stock markets held flat overall Tuesday morning after Wall Street closed last night at fresh all-time highs.
The Chinese Yuan meantime rose to its highest USD value since October after Beijing reported the largest trade surplus in 6 months.
Annual growth in China's total exports sank from 11.3% in June to just 7.2% in July, but imports growth fell from 17.2% per year to 11.0%, helping the country's trade surplus grow to equal $47.9 billion.
Tuesday's rising Yuan squashed the
Shanghai gold
premium, over and above comparable London bullion quotes in Dollars, back below the equivalent of $5.80 per ounce – near last week's 9-month low for the incentive to new imports into the world's No.1 consumer nation.
India's recent discounts on gold bullion vs. London prices have meantime "disappeared" reports the
Economic Times
, "as
jewellers have started restocking
" ahead of the traditionally strong autumn festival season "[and] market sentiment turns positive."
Besides the waning shock of
India's new 3% GST sales tax on gold
– introduced at the start of July – falling local gold prices "due to strengthening of the Rupee…[have] also helped consumers take interest," says the paper.