GOLD BULLION held above $1270 per ounce Thursday lunchtime in London, trading $20 higher for the week so far as China's key market held firm and Indian prices rose to a premium above the global benchmark for the first time since January.
The Euro currency jumped to 2-day highs against the Dollar at $1.10 after the Eurozone central bank made
no changes to its QE and negative interest-rate policies
, and chief Mario Draghi told a press conference that the committee did not discuss extending QE bond purchases beyond the March 2017 deadline set a year ago.
That briefly reversed almost all of yesterday's 0.8% rise in Euro gold prices, taking the metal back down to €1150 per ounce – a level first reached in mid-2011, lost in spring 2013, touched when the Euro crashed on the end Switzerland's Franc pegging, and regained by the 2016 rally in May.
Asian stock markets had earlier risen with major government bond prices, while gold bullion in China traded up to its highest price on the Shanghai Gold Exchange since before the Golden Week holiday starting end-September.
That held the premium for Shanghai gold, over and above the global benchmark of bullion settlement in London, at $3.50 per ounce – an incentive to new imports some 30% above the average.
"SGE premiums have a modest but positive and statistically significant impact on future gold price moves,"
suggests new research
from London-HQ'ed specialist consultancy Metals Focus, published this week in the London Bullion Market Association's quarterly
Alchemist
magazine.
"Although the relationship is far from straightforward," explains
Metals Focus
' Research and Consultancy Manager Neil Meader – formerly Head of Precious Metals Research & Forecasts at Thomson Reuters GFMS – "monitoring SGE differentials remains important…particularly if, as we believe, investor sentiment can be influenced by the underlying physical market."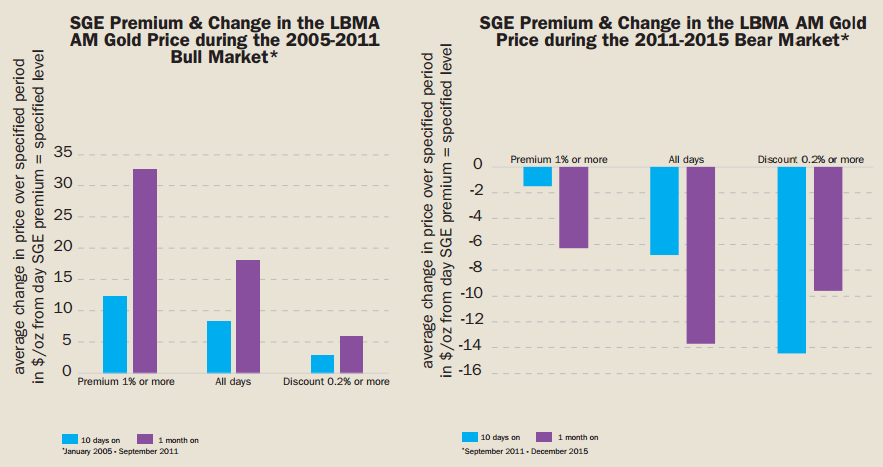 "Some [investors'] enthusiasm," Meader adds, has been "seemingly cooled by India's currently sluggish bullion imports and the hefty loco-Mumbai discount."
India's gold prices finally rose yesterday back above London quotes for the
first time in 9 months
, according to the Reuters news-wire, with bullion imports to the former world No.1 consumer nation
also estimated at the strongest since January
as end-October's coming Diwali festival and wedding-season demand reduces the over-stocking suffered by jewelers throughout 2016 to date.
Re-making charges on transforming a family's existing jewelry into a new piece have been
slashed by up to 50%
according to
The Economic Times
, as the trade tries to ease this year's 10% Rupee price rise and ongoing taxation issues.
"The [recent] drop in gold price will definitely drive demand this festive season," the ET quotes market-development group the World Gold Council's India director, Somasundaram PR.
India's
committee on General Sales Tax
– aimed at simplifying the country's huge range of GST and other charges – meantime met for a third day on Thursday, with gold one of the many "demerit" items likely to meet a higher rate of overall taxation when the GST is announced, alongside the government's "comprehensive" gold policy, sometime early in 2017.
Alongside India's apparent collapse in gold bullion imports and price premium, 2016 has seen growing
reports of heavy smuggling
to meet continued demand wanting to avoid tax, with two women detained by Air Intelligence in Mumbai overnight for carrying and not declaring more than $200,000-worth of gold and electronics on a flight from Bahrain.