GOLD BULLION
fell hard in Asian and London trade Tuesday, erasing most of last week's 1.8% gain versus the US Dollar as stockmarkets surged everywhere except London, where allies of new UK prime minister Theresa May said
she won't "rush" to start Brexit negotiations
with ex-European Union partners when she moves to 10 Downing Street on Wednesday.
Silver prices
held firmer than gold bullion, trading in line with last week's closing level as crude oil jumped almost 3% to lead a strong rebound in commodities.
Major government bonds meantime retreated in price, pushing yields sharply higher again from last week's new record lows.
"Alongside the Brexit question, the crisis among Italian banks is another factor that is lending support to gold prices," said a note earlier from German financial services giant Commerzbank.
The International Monetary Fund on Monday voiced its "
concerns [about] the bail-in of retail investors
" if Italy's banking sector – saddled with €360 billion of sour loans ($399bn), equal to one-fifth of the major Eurozone nation's annual GDP – has to raise cash by taking money off depositors.
Milan's MIB stock index
rallied 3% Tuesday
, rising further from its immediate post-Brexit 3-year lows as banking shares bounced alongside their bond prices.
Gold bullion dropped near 1-week lows for both US and Eurozone investors on Tuesday at $1347 and €1214 per ounce respectively.
Priced in Sterling, gold bullion retreated to £1022 per ounce – 3-year high when first touched immediately after the UK's Brexit result in June's EU referendum, but down some 4.5% from last week's finish.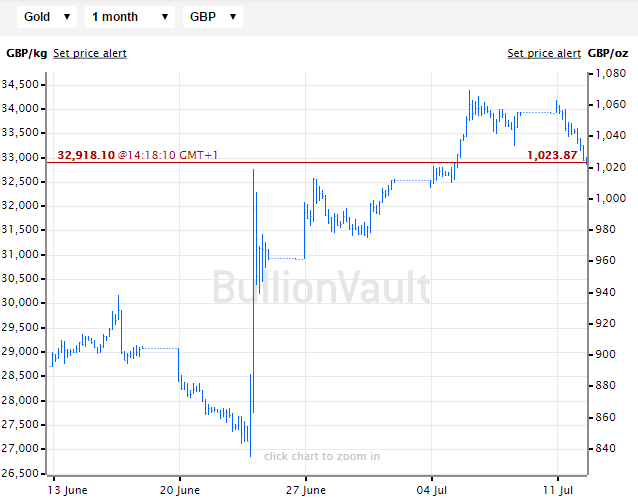 Faced with near record high Rupee prices, legal imports of refined gold bullion bars to India
fell over 40% during the first 6 months
of 2016, reports the
Business Standard
today, with January to June seeing just 210 tonnes landed in the world's No.2 gold consumer nation.
India's gross gold imports totaled 1,066 tonnes in 2015 according to analysis from specialists Metals Focus.
"January saw imports of 75 tonnes of gold," says today's Business Standard report, "after which it has been averaging 27-30 tonnes a month."
The Japanese government is
meantime set to cut its 2016 GDP growth
forecast in half, according to "sources", delaying a hike in VAT sales tax because of the economic uncertainty spurred by the UK's vote to leave the European Union last month.
After Japan's Asahi Refining (TYO:5857)
last year bought
the remaining North American gold and silver processing plants of former world-leader Johnson Matthey Plc (LON:JMAT), privately-owned Tanaka Holdings today said it is buying privately-owned Swiss refiner Metalor for an undisclosed sum.
"Metalor and Tanaka have
highly complementary business strategies
," said Tanaka CEO Akira Tanae, pointing to the Swiss-based company's specialisms in scrap recovery, refining and high-purity bullion products.
"Tanaka is
mainly active in Asia
," said Metalor's press release, "while Metalor also has a strong presence in Europe and the Americas.
"In addition…Tanaka is a global leader in low-grade refining, bonding wire for electronics, platinum equipment for glass smelting, and electrical contacts for the automotive industry."
Metalor, which will continue to operate under the Metalor name, has four.