GOLD BULLION slipped again overnight Friday against a falling US Dollar, heading for the lowest monthly finish since January in London's wholesale trade while world stock markets rallied from yesterday's sell-off and bond prices also stabilized.
Commodities extended their bounce in Dollar terms, taking Brent crude oil further above $47 per barrel – some 6% above mid-June's 7-month low – but silver and
platinum prices
held lower for the week and the month with gold.
Losing 1.9% from end-May at $1243 per ounce for US Dollar investors, gold bullion has fallen hardest versus the single-currency Euro, dropping 3.3% across June to trade below €1090 per ounce on Friday.
The Dollar has now lost 7.1% of its value since New Year against the world's other leading currencies.
Gold has gained 8.0% versus the greenback, but only 3.3% against the Japanese Yen and 2.8% against the British Pound.
Priced in Euros, gold bullion has slipped 0.5% since the start of January.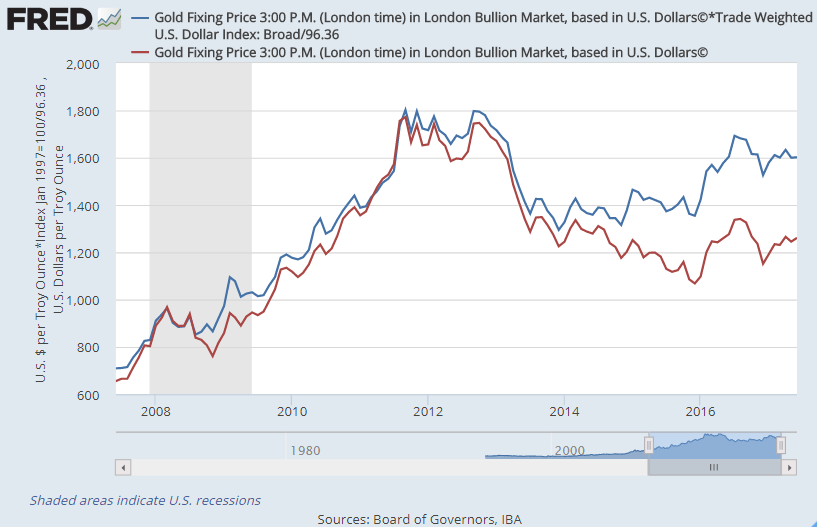 "Typically, a weaker Dollar should provide gold with something of a tailwind," says brokerage INTL FCStone's analyst Edward Meir, but "[bond]
yields on both sides of the Atlantic
are pushing higher," making gold less appealing against income-paying assets.
"We expect higher US real rates and Fed balance sheet reduction to put
downward pressure on gold
," agrees analysis from commodities specialist Jeff Currie at investment bank and bullion market-maker Goldman Sachs, but weak US and global growth, plus emerging-market demand could "[make] gold more attractive to longer-term investors."
Gold bullion imports to No.2 consumer India are "on course to slow down from July" says a note from analysts Metals Focus as this weekend's introduction of 3% GST sales tax dents seasonally weak summer demand.
Further ahead in Indian jewelry, says rating agency S&P's Crisil analysis company in Mumbai, "Better supply-chain efficiencies and transparency will
provide an edge
to the organised players and help them gain market share" from the country's primarily 'artisanal' workshops.
Shanghai gold prices meantime fell hard Friday morning, down to their lowest level since mid-March at ¥273 per gram as the Yuan rose yet again to set a new 7-month high at ¥6.76 to the Dollar.
That trimmed the incentive offered to new imports of bullion, out of London and into the world's No.1 consumer market, back below $10 per ounce.
In line with the typical Shanghai premium, that was down almost $2 from Thursday's 5-week high.