GOLD BULLION rose near 2-year highs against the Australian Dollar on Tuesday even as gold priced in US Dollars fell back below $1310 – its lowest level in more than a month when first reached last week.
The second-largest gold mining nation behind China, Australia has grown its annual output by 15% since the peak year of 2012 for US Dollar prices.
Setting a new annual record of 295 tonnes in 2017 as
gold exploration spending rose
, Australia's output accounted for some 9% of global mine production according to specialist analysts Thomosn Reuters GFMS, launching their new Gold Survey 2018 today.
That pushed bullion prices for Australian investors, consumers and mining producers up to A$1757 per ounce – an 18-month peak now touched 4 times in the last 6 weeks.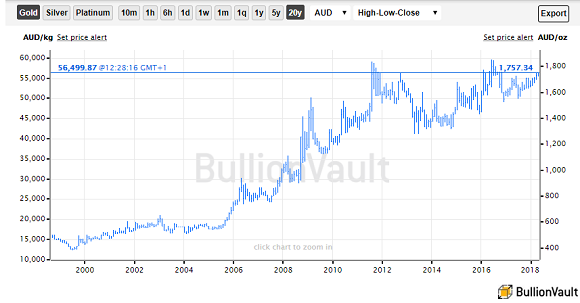 Easing back from yesterday's 16-week high in the
UK gold price in Pounds per ounce
– set at £973 as London's market stayed shut for the May Bank Holiday – wholesale bullion also hit 4-month highs against the Euro on Tuesday, as the single currency hit a new 2018 low on the foreign exchange market.
The last time the Euro traded this low against the Dollar, gold was at €1074 and $1279 against the two currencies.
Tuesday morning saw London gold bullion trade 2.7% higher against both currencies, peaking at €1104 and $1314 per ounce.
"Global mine production inched lower last year," says today's new GFMS report, "the first annual drop since 2008.
"Environmental concerns and a crackdown on illegal mining were the driving force," it says, forecasting a small rise in 2018 to a new all-time high marking "a cyclical peak in mine production."
Predicting that bullion prices will average $1360 this year – the highest since the crash of 2013, and with the potential for a spike to $1500 – GFMS expects this year's gold mining growth to come from Asian producers led by Indonesia, Mongolia and China.
"On the other hand, United States, Tanzania and South Africa are expected to show strong declines year-on-year."