GOLD BULLION rallied Friday as the US Dollar edged back from this week's surge on the currency market.
Losing $10 from last Friday's finish however, gold bullion still headed for its lowest weekly close since mid-December at $1268 per ounce.
Investor interest in the giant SPDR Gold Trust (NYSEArca:GLD) yesterday shrank by 0.5%, snapping the gold-backed ETF's longest-ever stretch of "no change" and pulling its size down to the smallest level since mid-February.
The world's largest silver ETF in contrast – the iShares Silver Trust (NYSEArca:SLV) – expanded 1% as investors bought shares in the silver-tracking stock
at a 1-month low
.
Physical silver bullion yesterday matched mid-March's 2018 low at
London's daily benchmarking auction
, fixing at $16.2450 per ounce before rallying in spot trade to $16.41 on Friday.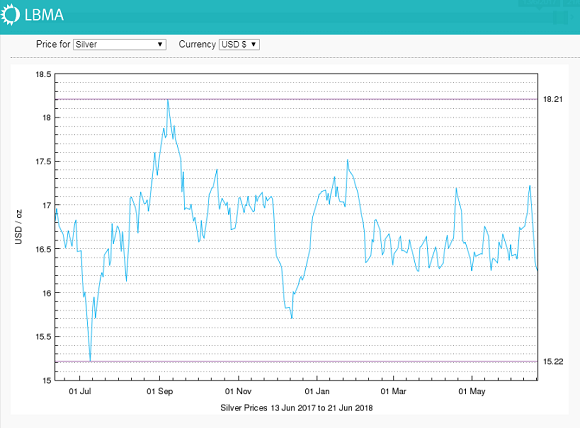 "[Gold's] breakout from a gargantuan inverse Head and Shoulders above the multi-decade channel remains evasive," says technical analysis from French investment and bullion market-making bank Societe Generale.
"It has attempted multiple times to pierce through the neckline of this pattern at $1360/1366," says SocGen, pointing its clients
once more
to a potentially bullish pattern
first noted
over 9 months ago.
For the time being, "Expect short-term price action to be under pressure," the analysis goes on, with "the next significant support" at $1244 if gold fails to recover its "multi-month ascending trend" – starting at last July's low point – now at $1267.
The Chinese Yuan also rallied against the Dollar on Friday, but still ended 1% down from last week's finish, trading near yesterday's new 5-month low.
Shanghai gold prices meantime edged almost $6 above the London equivalent, offering the strongest premium in 2 weeks for bullion imports to the No.1 consumer nation.
Demand in No.2 consumer India "has improved slightly due to the [price] correction," Reuters today quotes Ashok Jain, head of bullion wholesalers Chenaji Narsinghji in Mumbai.
"But still many buyers are
waiting for prices to fall further
," he says, with another Mumbai importer saying that jewellers are "postponing purchases expecting prices could fall below $1250."
No.5 consumer nation Turkey meantime goes to the polls Sunday for the snap election called by current president Recep Tayyip Erdoğan to cement sweeping new powers approved by voters in a referendum last year.
"Erdogan has won every election in Turkey for the past 16 years," says
Deutsche Welle
, but "the current economic crisis means he is now in danger of losing his parliamentary majority, and re-election as president is far from certain."