GOLD PRICES fell Monday morning as the dollar held firm after China's central bank eased its domestic policy to support the economy amid concerns that an escalating trade dispute with the United States could hurt growth.
China's central bank on Sunday announced a steep cut in the level of cash that banks must hold as reserves. The reserve requirement ratio was cut for the fourth time this year by the People's Bank of China (PBOC).
PBOC said that the 1 percentage point reserve ratio cut was "reasonable and moderate, and will not lead to depreciation pressure" on the currency.
China's onshore renminbi rate was weakened by 0.82% to 6.9253 against the US dollar, making  it the biggest daily decline since 19 July 2018.
Stock markets in Asia sank as the CSI 300 Index, which tracks 300 of the largest stocks on both Shanghai and Shenzhen exchanges, dropped by 4.3 per cent, the biggest single-day percentage plunge in 31 months, despite its central bank's policy move after a week-long national holiday. Japan's markets were closed for a holiday.
A range of IT stocks in Asia traded at the lowest level since July 2017. It was hit on Friday as investors digested the accusation that China had infiltrated American companies with a hardware hack three years ago as reported by Bloomberg.
"Maybe, the trade war is affecting China more than realised and therefore the need to ease on policy, which dampened demand for gold there," a Singapore-based trader said.
Betting against gold prices by hedge funds and other 'Managed Money' traders last week continued to support the record high on Comex futures and options, according to US regulator's the CFTC's data series.
 
Net of that group's bullish bets, the overall short position reduced 5.4% to the equivalent of 227 tonnes, however the positions have been net short for the 12th week running, the longest period since the format was started in June 2006.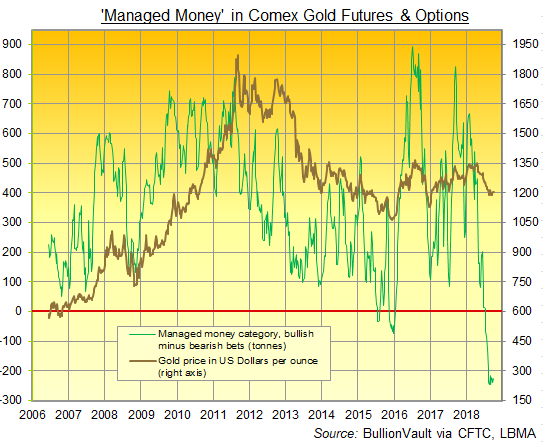 Holdings in the SPDR Gold Trust, the world's largest gold-backed exchange-traded fund, fell 0.20 per cent to 730.17 tonnes, on Friday.
Italy's 10-year bond yield climbed to 3.63% a four-year high as the government refused to bow to criticism over its budget deficit plans by the European Commission.   The spread between German and Italian 10-year yields was pushed above the 300 mark, the widest since 2013.
Columbus Day in the U.S. means no Treasuries trade on Monday. Investors are gearing up for $230 billion of Treasury auctions following Friday's 10-year Treasury yield hitting its highest level since 2011 and after the unemployment rate dropped to 3.7 percent, a 49 year low.
Shinzo Abe, Japan's prime minister said Britain would be welcomed into the Trans-Pacific Partnership (TPP) trade deal with 'open arms' after it leaves the EU.
Sterling declined this morning against the US dollar after news that UK business are still anxious about Brexit. Firms in the service sector, which represents 76% of UK GDP, have given up hiring staff, according to the British Chambers of Commerce.
Gold prices for UK investors fell below £910 per ounce on Monday afternoon.
A meeting of top U.S. and Chinese diplomats got off to a frosty start on Monday, with U.S. Secretary of State Mike Pompeo and Chinese Foreign Minister and State Councilor Wang took each other to task amid worsening bilateral relations.
"Recently, as the U.S. side has been constantly escalating trade friction toward China, it has also adopted a series of actions on the Taiwan issue that harm China's rights and interests, and has made groundless criticism of China's domestic and foreign policies," Wang said at a joint appearance with Pompeo.    
Pompeo, who was briefing Wang following his visit with North Korean leader Kim Jong Un, said: "The issues that you characterised we have a fundamental disagreement."