GOLD BULLION failed for the 3rd session running to hold a rally above $1285 per ounce in London on Thursday, edging $6 down despite new data showing manufacturing growth slowing worldwide in New Year 2019.
Japan has "stalled" after its best run in a decade, says the Financial Times of today's Nikkei PMI survey, while the 19-nation Eurozone is "barely growing" with a drop in new orders says Reuters.
Global stock markets meantime edged higher after the
MSCI World Index
fell 1.1% yesterday, cutting its rally from December's 7-month lows to 9.8%.
Crude oil in contrast slipped again, edging down to $60.50 per barrel of Brent and now erasing the last week's gains after setting 18-month lows in late December.
Major government bond prices rose, pushing 10-year US Treasury yields down to 2.71% – a 10-month low when reached during last month's crash in world stock markets.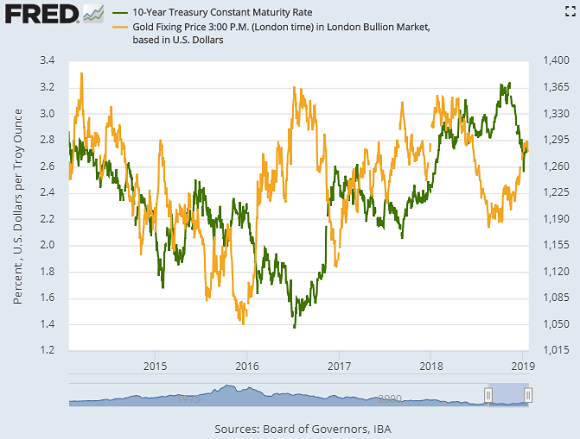 "That gold is not doing better in this environment of uncertainty and slower growth…is testament to the US Dollar being the go-to safe haven at present," writes strategist Jonathan Butler at Japanese conglomerate Mitsubishi.
"Further economic slowdown and an escalation of trade tensions bode ill for industrial prospects. Conversely, gold could look more attractive as a risk hedge in this environment of looser monetary policy in China."
With US-China trade tariffs set to return in full on 1 March, the United States is
still "miles and miles"
from a trade deal with China, said Commerce Secretary Wilbur Ross to CNBC today.
The partial US government shutdown meantime means President Trump cannot give the annual State of the Union address next week.
Washington may sanction oil exports from No.1 crude reserves holder Venezuela, officials said overnight, after the US, Canada and several Latin American nations recognized opposition leader Juan Guaidoas as interim president in Caracas amid widespread protests against the violent government of Nicolas Maduro.
Trump also refused to rule out using US military force as an "option" in Venezuela, repeating a position
he first laid out
in August 2017.
The UK's situation with barely 9 weeks until
Brexit is a "disgrace"
says aerospace engineer Airbus' CEO Tom Enders, warning that his own firm "will have to make potentially very harmful decisions for the UK" if the country leaves the European Union without an agreed withdrawal deal.
"We are still optimistic," says LBMA general counsel Sakhila Mirza, hoping that the European Banking Association – to which the EU has referred the decision – will recognize the gold market's deep liquidity and lower the required funding ratio from 85% to 50% or preferably zero.