GOLD BULLION rallied against most major currencies Tuesday in London, recovering most of yesterday's drop as the Chinese Yuan steadied from a new plunge on the FX market and US Dollar slipped back ahead of Donald Trump meeting the European Commission's Jean-Claude Juncker amid the worsening 'trade war' spat over tariffs between the world's two largest economic regions.
Gold bullion gained $10 from an overnight low of $1218 per ounce, hit as the Yuan set fresh 12-month lows versus the Dollar.
World stock markets also regained yesterday's losses, taking Germany's Dax index 1.4% higher after new data said manufacturing activity in Europe's No.1 economy is outpacing its neighbors in July, expanded the fastest in 3 months.
China's major share index
meantime closed at a 1-month high on Tuesday, some 7% above early July's plunge to 14-month lows, after Beijing announced a move to "pro-active fiscal policy", pushing infrastructure projects and local government funding deals.
After
cutting the amount
of cash that banks need to hold back from lending last month, the People's Bank of China on Monday
injected ¥502bn
($74bn) of money into the banking system using short-term loans to commercial lenders.
Friday night saw the PBoC also grant
a new "transition period"
for financial insitutions to wind down high-risk investment products, seeking not to change "the tendency of financial deleveraging" according to one former policymaker, but aiming instead to "ease the market's pessimistic expectations".
Bullion landed in Shanghai today held unchanged in price as the Yuan sank, slashing its premium over global quotes below $3 per ounce – barely one-third the usual incentive for new imports into the world's No.1 gold consumer nation.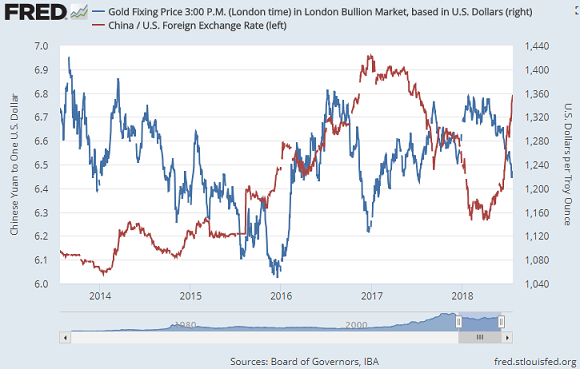 The Yuan's continued fall to 1-year lows "
can no longer be explained
as just the reversal of [early 2018's] appreciation," says FX specialist Brad Setser of the Council on Foreign Relations.
"[I] think
the PBOC will have to show its hand soon
, either by intervening to limit further moves against the basket (as it has done in the past)  or by sitting on its hands, only seeking to smooth big moves and allowing a further move down (and risking Trump's ire)."
With Trump
threatening tariffs on all Chinese imports
in an interview last week, "It is now quite clear that Beijing has fully shifted its policy stance from the original deleveraging towards fiscal stimulus," agrees Japanese brokerage Nomura, "underpinned by monetary and credit easing."
After Donald
Trump lambasted the European Union
for hitting US-listed internet giant Google with
a $5 billion anti-trust fine
last week, the European Union is now preparing another list of US products to tax if the White House expands its list of EU exports now hit by a 25% tariff, the
Financial Times
reports.
"Countries that have treated us unfairly on trade for years are all coming to Washington to negotiate,"
Trump tweeted earlier
on Tuesday, saying that his tariff policy is working.
Tariffs are the greatest! Either a country which has treated the United States unfairly on Trade negotiates a fair deal, or it gets hit with Tariffs. It's as simple as that – and everybody's talking! Remember, we are the "piggy bank" that's being robbed. All will be Great!

— Donald J. Trump (@realDonaldTrump) July 24, 2018
With gold bullion prices holding above last week's new 12-month low of $1211 per ounce on Monday, the giant SPDR Gold Trust (NYSEArca:GLD) expanded by 0.5% as investors bought stock, growing to its largest size in almost 3 weeks after shrinking to a 1-year low amid gold's recent 3% price drop.
Silver's 10% price drop since mid-June, in contrast, has seen its largest such ETF – the iShares Silver Trust (NYSEArca:SLV) – expand by 4% to its largest size since July last year.
The central bank of Turkey, the No.5 gold consumer nation, meantime left its key interest rate unchanged on Tuesday despite worsening inflation, defying analysts and
sending the Lira down
to new all-time lows on the currency market by holding in line with
the express request
of newly-empowered President Recep Tayyip Erdoğan.
The UK's opposition Labour Party leader Jeremy Corbyn meantime declared that next March's Brexit from the European Union
offers economic benefits
, telling business leaders he wants to set out a clear industrial policy, seek fewer imports, and encourage a weak Pound to boost exports.