GOLD BULLION erased the last of yesterday's $10 rally in Asian and London trade Tuesday, drifting back to last week's 4-month closing low at $1255 per ounce as world stock markets rose with bond prices.
Silver also retreated to last week's finish, moving in a 20 cent range either side of $17.60 per ounce.
The UK's FTSE100 index rose to new records above its December 1999 peak as the Pound sank to just 90 cents vs the Euro, down from 75c before the Brexit referendum result.
The Pound's fall helped buoy gold bullion for UK investors above £1020 per ounce, some 42% higher for 2016 to date.
The US Dollar Index meantime rose to its
strongest since July
on the FX market, helping push crude oil back from Monday's new 1-year high after
Moscow said Russia may
join the Opec cartel member states in trimming output to support world prices.
"Spot gold has recently failed at the 2011-2016 downtrend," says senior analyst Axel Rudolph at German financial services firm Commerzbank in its latest Bullion Weekly Technicals.
With the metal falling through the average price of the last 200 days on Rudolph's charts, "Attention has now reverted to support at the $1236.30 late-June low, a drop through which will target the March, April and May lows as well as the October 2015 high at $1208," he says.
"There the gold price may find support."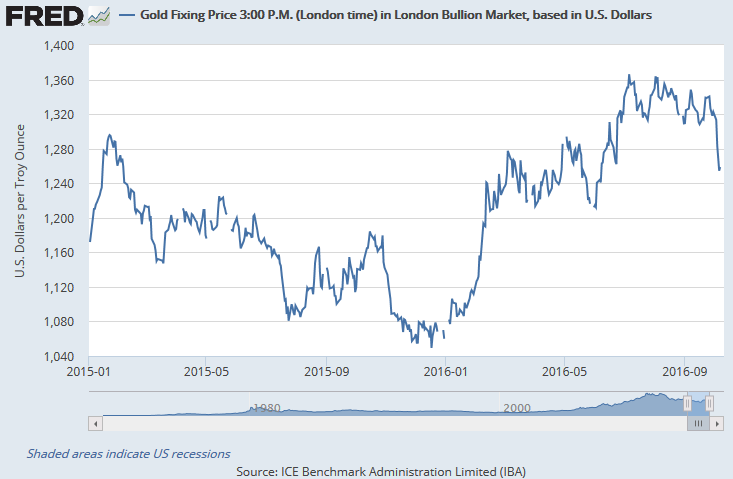 Ahead of Tuesday's 3pm London benchmarking auction, gold's 200-day moving average came at $1256.50 per ounce.
This morning's London benchmark auction saw almost 3 times as much gold offered for sale as wanted to buy at the opening suggestion of $1257.20 per ounce.
"A rebound could take place," says the latest technical analysis from French investment and bullion market-making bank Societe Generale.
"However, it will likely be a corrective rebound…and the [downwards] correction could extend towards $1200."
"I see gold targeting the $1200 level," agrees Russell Browne in New York for bullion market-maker and London benchmark participant Scotiabank,
noting that
– on the front-month US futures contract – gold closed Monday "for the third day in a row below the 200-day moving average closing at 1258.50."
Yesterday's "return of the Chinese" after the week-long National Day holidays saw "some decent buying," says a note from Swiss refining and finance group MKS, but "turnover was however a little more limited than usual.
"I think some traders may have expected this to be a little higher, given that the
spot market was $50 below
where Chinese traders last saw it."
Tuesday's
volume on the Shanghai Gold Exchange
was muted again, but the benchmark Shanghai Gold Fix's premium over comparable London quotes rose to $5.85 per ounce, extending its run of sizeable incentives for bullion importers.
Government bond prices rallied meantime Tuesday, nudging 10-year
UK Gilt yields back below 1.00%
– a record low when first breached immediately after the Brexit referendum result.