GOLD BULLION fell to new 3-week lows against the Dollar and touched 3-month lows for UK investors on Tuesday as the global bullion market got back to work after the long May Day holiday.
With the US Congress side-stepping a 'debt ceiling' crisis by
agreeing a $1 trillion package
to fund government spending until September, world stock markets extended Monday's gain in US equities, taking the EuroStoxx 50 index to new 18-month highs, almost one-third above last June's drop following the UK Brexit referendum's shock result.
Major government bond yields ticked higher as debt prices slipped, and crude oil rallied to $49 per barrel of US benchmark WTI.
Silver bucked Tuesday morning's drop in gold and also copper – now down 6% from February's 20-month high – but kept most of May Day Monday's 40-cent loss at $16.91 per ounce.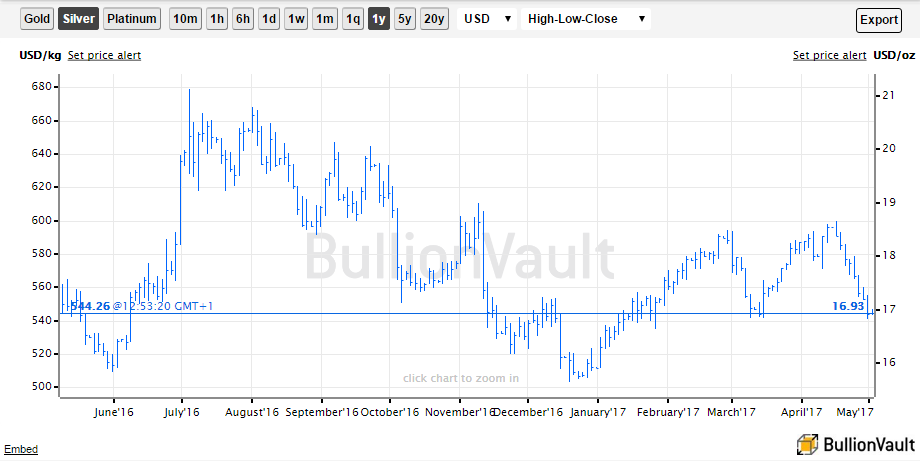 Trading $40 per ounce below mid-April's spike to 5-month highs in Dollar terms, gold bullion meantime slipped Tuesday to new 5-week lows beneath €1150 for Euro investors.
The metal has now lost almost 6% since the first round of France's presidential election saw anti-Euro, anti-immigration hopeful Marine Le Pen of the Front National
go through to face
centrist and Emmanuel Macron of new party En Marche! in next weekend's finale.
Hedge funds and other 'Managed Money' players trading Comex gold futures and options last week grew both their bullish and bearish bets as a group, new data showed late Friday.
Overall, that pushed the Managed Money category's net speculative long position on Comex gold futures and options up to 514 tonnes of notional bullion as of last Tuesday's close.
The highest level since before Donald Trump won the US election, that was 38% greater than the net spec long's 10-year average according to data from US regulator the CFTC.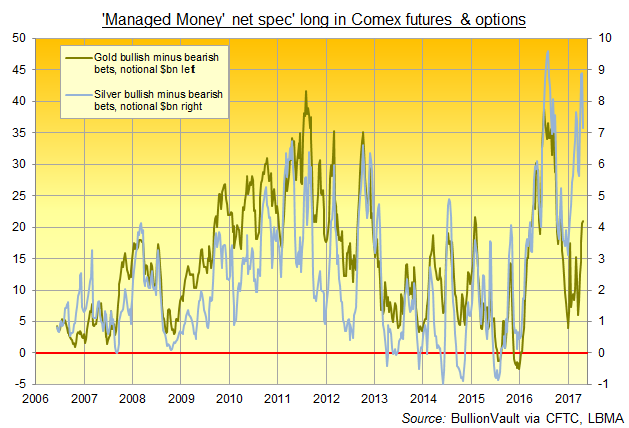 Managed Money positioning in Comex silver derivatives, in contrast, showed the heaviest bearish betting since New Year, with a cut to the category's total number of bullish bets too.
That slashed the net speculative long position on silver by almost one-fifth from mid-April's new all-time record high. Back down to the smallest in 6 weeks however, it remained 235% larger than the 10-year average.
For gold, "Support appears at $1252.30," reckons the latest technical analysis from Canada-based Scotiabank, pointing to the 200-day Moving Average of US Dollar prices.
"With China out on holiday" yesterday alongside London and most of Europe, "the natural
support they provide was absent
and the metals never really looked like bouncing," says the daily trading note from Swiss refiners and finance group MKS.
"Silver was hammered…[and] has had quite a fall from grace after testing $18.00 less than a week ago with investors getting a little ahead of themselves."
But falling less than Dollar-price quotes, that pushed the Shanghai premium over London gold rates back up to $10.50 per ounce –a 2-week high some 12% above the last 12 months' average.
China's manufacturing activity slowed in April to its
weakest in 7 months
according to the Caixin PMI survey of factory managers.
Eurozone and UK activity held strong near multi-year highs on the Markit data agency's reports.