GOLD BULLION prices slipped from a morning rally in London trade Friday afternoon, heading into the weekend $10 per ounce above yesterday's 3-week low as world stock markets rallied from new 6-week lows.
The price of gold bullion still held 1.5% down for the week as the Dollar rose further following Wednesday's news that the US Federal Reserve will "likely" raise US interest rates at its June meeting.
Exchange-traded trust funds tracking the gold price expanded again, however, with shareholder demand needing another 15 tonnes over the last week to back the giant SPDR Gold Trust (NYSEArca:GLD) – now back to its largest size since November 2013.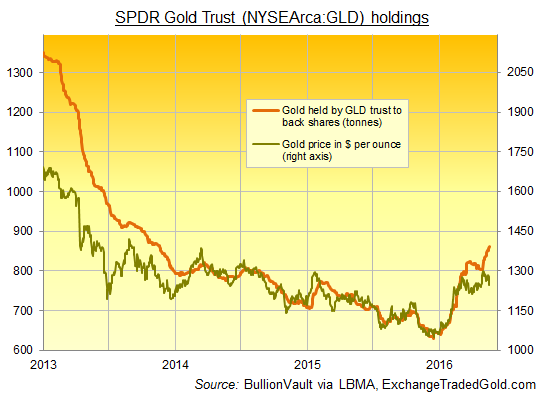 "Some investors have clearly been viewing the lower price level as an attractive opportunity to buy," says the commodities team at German financial services group Commerzbank.
"This should protect the gold price from any further slide. We are confident that it will stabilise at roughly its present level."
But "gold's rally has now started to fade," says strategist Jonathan Butler at Japanese conglomerate Mitsubishi, "and elevated gold COMEX [derivatives] longs and new ETF positions may not prove to be all that sticky if 'risk-on' mentality returns.
"It is hard to see what the catalyst for another big move higher across the precious complex will be, unless the Fed pushes out rate expectations again or…an extension of monetary stimulus at other central banks."
Betting on US futures contracts now
puts the odds of Fed rates
reaching 1.0% from the current 0.50% by the September meeting at nearly 1-in-5 – up from just 1-in-50 a month ago.
Looking at the technical picture, "The strength in the USD was a catalyst," agrees Swiss refining group MKS's Asian trading desk, "[but] there were also several significant technical levels which were breached which exacerbated the move.
"The mid/late session recovery technically keeps gold above the medium-term uptrend."
"The momentum indicator is showing signs of weakness," counters a technical note from London bullion bank Scotia Mocatta's parent Scotiabank's New York office, "and [the] current view on gold is bearish, confirmed by [Thursday's] close below $1256.
"Support now comes in at $1243…and the next downside target is in the $1205…area."
Commodities meantime bounced Friday from their sharp mid-week sell-off on the US Fed's latest meeting notes, but silver held onl;y at $16.54 per ounce, down 3.3% from last Friday and heading for its lowest weekly finish since mid-April.
China's new gold bullion pricing benchmark had earlier fixed on Friday afternoon in Shanghai unchanged from Thursday, but 1.1% down for the week in Yuan terms.
Shanghai's premium over spot quotes for London delivery rose above $3 per ounce, doubling this week's previous average incentive to new imports from the world's central gold dealing hub.
World No.2 gold bullion consumer nation India meantime "
suddenly seems to be losing appetite
," says an article at the
Economic Times
from fund manager Chirag Mehta, noting weak demand data for Q1.
"This could be on account of reduced space towards discretionary spend as the economy tries to recover from lower growth and the end effect of two years of back-to-back droughts."