GOLD FUNDS ticked higher Wednesday morning as world equity indices slipped for a second day – led by pre-market trading in US tech stocks such as Google – and the Euro retreated from 1-year highs versus the Dollar hit after Euro central-bank chief Draghi said the currency union may be enjoying economic "reflation".
Currently holding deposit rates for commercial banks at minus 0.4% per year and buying €60 billion of Euro government debt each month
until at least December
, the ECB "will announce a tapering [of stimulus measures] in September, to
begin in January
," reckons J.P.Morgan's global strategist Mike Bell.
"Financial markets are usually most responsive to any early signs of monetary policy shifts," says a note from bullion and investment bank ICBC Standard.
"By the time the actual rate changes occur, the currency has already experienced much of the benefit."
Silver tracked commodities higher, touching a near 2-week high at $16.86 per ounce while
gold priced in Dollars
rallied to touch $1254 per ounce – almost unchanged for the week after Monday's 1.5% plunge.
Shares in Alphabet (
Nasdaq:GOOG
) – the re-named parent company of search-engine giant Google – meantime held almost 6% below early June's new all-time highs as its lawyers considered a challenge to
yesterday's  €2.4 billion fine
for anti-competitive "abuse" of its "dominant position" from the European Commission in Brussels.
That still meant "fund managers have nearly doubled their exposure to the four FANG technology stocks since 2014," Brandt says – namely the US giants Facebook, Amazon, Netflix and Google.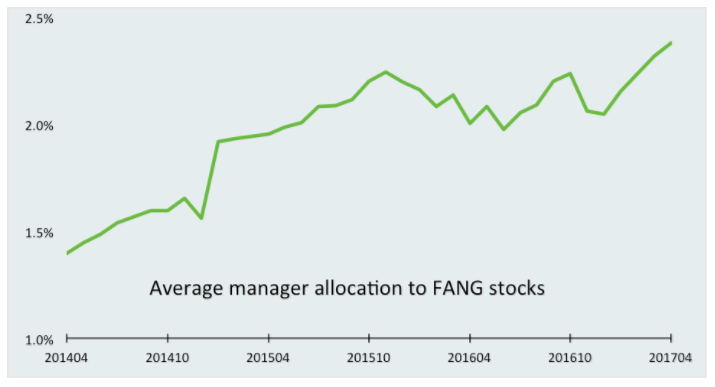 Investors worldwide meantime "pulled over $1 billion out of all Commodities Sector Funds [last week] for the second time year-to-date," says EPFR's data, "with dedicated Gold Funds accounting for around half of the headline number."
Tuesday's rally in Dollar gold prices left the giant SPDR Gold Trust (NYSEArca:GLD) unchanged in size yet again, need 853 tonnes of gold backing for its stock exchange-traded shares.
The GLD now accounts for 37% of all gold-backed ETF holdings worldwide.
Gold priced in Euros meantime bounced €7 per ounce Wednesday morning from an overnight drop beneath €1100, the lowest level since New Year 2017.
After Italy sidestepped Eurozone rules on illegal state aid to pump €6 billion into bailing-out two failed lenders at the weekend, "What's becoming clear as an investor is bank risk is as much
down to the attitudes of local politicians
as it is down to the law," says Paul Smillie of $465bn Singapore bond-fund manager Columbia Threadneedle. 
"Agreement from the EU Commission
is a formality
," said Banca d'Italia deputy Fabio Panetta on Tuesday in Rome, where
prosecutors are now seeking
to put former Veneto Banca CEO Vincenzo Consoli on trial together with 9 other senior managers for "irregularities" in running the lender.