GOLD BARS traded in the world's wholesale hub of London erased almost all the week's earlier 1.2% gains versus the Dollar on Thursday, falling back against all major currencies as the European Central Bank hinted it won't cut interest rates any further for the world's single largest currency zone.
Having touched April's 5-month high of $1295 per ounce on Tuesday, wholesale gold bullion retreated to $1282 as the ECB's latest policy statement cut the words "or lower" from its forecast that interest rates "[will] remain at present levels for an extended period of time."
For Eurozone traders, the price of 12.5 kilogram Good Delivery gold bars dipped below €1140 per ounce, halving this week's earlier 1.7% gain.
The British Pound meantime hit a new 2-week high against the Dollar as
UK voters went to the polls
for the third time in barely 2 years, with the ruling Conservative Party expected to maintain or grow its majority in the House of Commons.
"Resistance remains firm at $1295.70 – the April high," says the latest technical gold chart analysis from bullion bank Scotia Mocatta's New York team.
That area also marks the 6-year downwards trend-line in wholesale gold bar prices identified by other analysts as
a 'game changing' level
.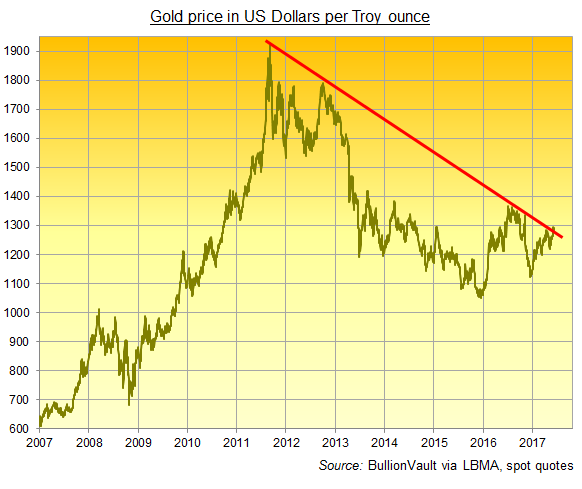 "Momentum indicators continue to be bullish as gold appears poised to target the $1300 level,"
says Scotiabank
.
"Clearly investors are seeking to hedge against…numerous risks," says German financial services group Commerzbank, pointing to yesterday's 1.1% expansion growth in the giant SPDR Gold Trust (NYSEArca:GLD).
As well as Thursday's ECB decision, UK election and US testimony over
'Russiagate' from ex-FBI chief James Comey
– fired by President Donald Trump in May – "[There's also] further escalation of the situation in the Middle East," says Commerzbank, with "Iran holding Saudi Arabia partly responsible" for Wednesday's ISIS murder of 12 people in Tehran.
Turkey's parliament yesterday ratified a military and training deal with Qatar – now under a diplomatic and trade freeze by 5 of its Gulf neighbors – in what some defense analysts in Ankara called "an
apparent show of support
."
"Qatar's original sin was in attempting to forge a path independent of Saudi's traditional hegemony in the region since the mid-1990s.
"This battle appears to be more about crushing the last vestiges of hope for any independent political thought in the Middle East."
But "the straw that broke the camel's back," says the
Financial Times
, citing un-named sources, were
ransom payments worth $1 billion
made by the Qataris to al-Qaeda and Iran in exchange for the release of hostages in Iraq and Syria.
"[This is] how Qatar funds jihadis…The hostage deal…is one of a series since the beginning of the [Syrian] war."
Imports of gold bullion bars to Turkey almost
doubled in May from April
, exchange Borsa Istanbul said last week, hitting the largest 1-month level since mid-2008 at 48 tonnes.