GOLD BARS traded in London – heart of the world's wholesale bullion market – closed 2016 at $1159.10 per ounce Friday morning, gaining 9.1% for the year.
Also ending 3 years of losses, silver bullion meantime fixed at Friday's midday London auction at $16.24 per ounce, some 18.2% higher for 2016 as a whole, its strongest gain since 2010's rise of 80%.
The US Dollar meantime neared its fourth successive annual rise on the foreign exchange market, nearing the 2002 peak against a trade-weighted basket of other currencies.
US equities were headed for a 10.0% annual gain, with the S&P500 index opening Friday just shy of mid-December's new all-time record high.
That meant gold lagged the US stock market for the 5th year running after beating it
throughout 2005-2011
.
This year's rise in wholesale gold bar prices was the strongest annual gain since 2011's rise of 11.7%, and ended the metal's worst losing streak since the 5-year run ending 1992.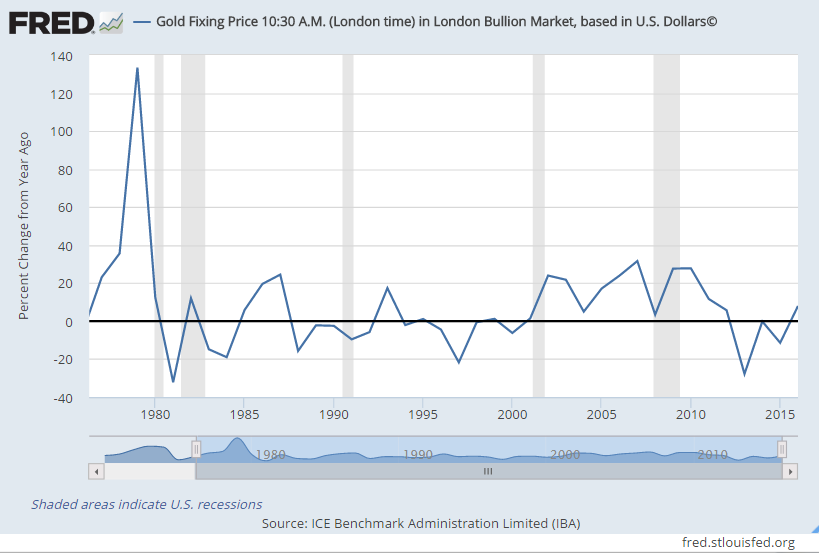 Priced in British Pounds – itself down 15% for the year on the FX market after
June's surprise Brexit referendum decision
to quit the European Union – wholesale gold bullion bars ended 2016
higher by 31.2%
, the ninth sharpest annual gain for UK investors since prices were cut loose from their currency pegs by US president Richard Nixon abandoning the last vestige of the global Gold Standard in 1971.
US Treasury bonds today held unchanged, keeping the yield offered by 10-year debt at 2.47%.
A little higher from end-2015's level of 2.27%, that put
longer-term US interest rates
markedly above early July's new record low of 1.37%, hit in the wake of the Brexit shock.
Latest data today
put gold trading volumes between the clearing members of the London bullion market at $6.2 trillion for the 12 months ending November – a rise of 16.4% from 2015 and the fourth largest value since records began in 1996.
Analyst estimates say the total quantity of gold traded through London may stand 3 to 5 times larger, although a survey of all London Bullion Market Association members in Spring 2011 put the multiplier nearer 10 times.
Post-trade reporting for all trading members
will become mandatory in 2017
, with the data gathered to help show the wholesale gold bar market's true size and liquidity to regulators.
New
trading size limits were this week applied
 to contracts on the Shanghai Gold Exchange – the only legal route for gold bars into China, the world's No.1 consumer market – with analysts guessing that the half-tonne limit aims to stop institutional investors selling too quickly and depressing prices.
Households in former No.1 gold consumer nation India will meantime see the deadline pass for depositing 500 or 1000 Rupee notes into a formal bank account after the Modi administration's shock demonetisation of early November, aimed at curbing so-called 'black money' and tax evasion.
Out of the $230 billion-worth of notes cancelled – well over four-fifths of all currency in circulation – some 90% has now been deposited into the banking sector.
The resulting cash crunch nationwide – causing "a trail of devastation [for] farmers, workers, small shopkeepers, low-income households and businesses"
according to the Economic Times
today – initially spurred a jump in demand for gold bars and jewelry, and has now hit the industry badly, with the drop in sales spreading to the gift and gold jewelry trade in neighboring Dubai, a major offshore center for Indian travellers to shop,
according to dealers
.