GOLD BARS dealt in London's wholesale market held flat against most major currencies on Wednesday morning, edging back up to $1343 per ounce for US investors as world stockmarkets steadied from their 3-sesson drop ahead of today's US Federal Reserve decision on Dollar interest rates.
Silver prices meantime held at $17.27, struggling to also make it 12 in 16 New Year gains versus the Dollar.
Platinum in contrast traded over 8.1% higher, on track to record its 15th January rise of the last 16 years.
US Treasury debt prices meantime steadied today after their steepest 1-month decline since Donald Trump's victory in the US presidential election of November 2016.
That curbed Tuesday's trip to the highest 10-year yield offered to T-bond buyers since early April 2014, cutting long-term rates to 2.71%.
Whereas Nov-December 2016 saw gold drop 10% versus the Dollar as Treasury yields leapt, the last month has seen the cost of wholesale gold bars rise over 3.6%, touching the highest price for US investors in more than 18 months.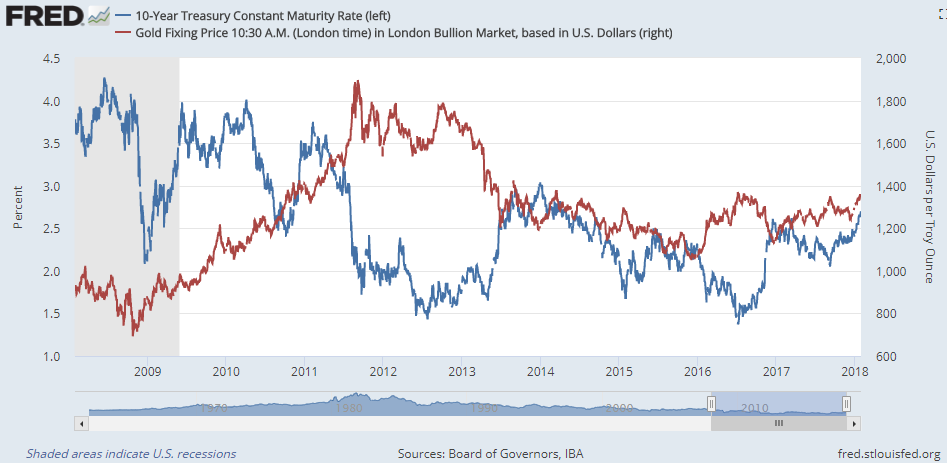 "[Today's US Fed meeting] is likely to
send a modestly hawkish signal
," reckon interest-rate strategists as financial giant Bank of America-Merrill Lynch, "as officials become more convinced of the shift from the disinflation of 2017 and emphasize the momentum in the real economy."
With today marking Janet Yellen's final Fed meeting, "we believe rates across the curve are headed higher," the BAML analysts say.
"The combination of easier fiscal policy, higher deficits, greater Treasury supply, and building inflation expectations should result in a further increase in five- to 10-year rates."
Betting on a Fed hike at today's meeting has more than doubled from this time last month, but almost 95% of the speculation on Comex interest-rate contracts still sees no change from the current 1.50% level.
Betting on hikes in March, June, September and then December however has also risen sharply, with over 1-in-4 speculative bets for the last Fed meeting of 2018 now seeing US interest rates at a ceiling of 2.50% or above.
The proportion of betting on December's Fed decision now forecasting 4 hikes or more in 2018 is 2.5 times greater than it was this time last month and 5 times greater than this time last year.
Speculation on 2018 ending with US Fed rates at or below today's level has meantime sunk from 42.5% of all betting on December's meeting to just 1.3%.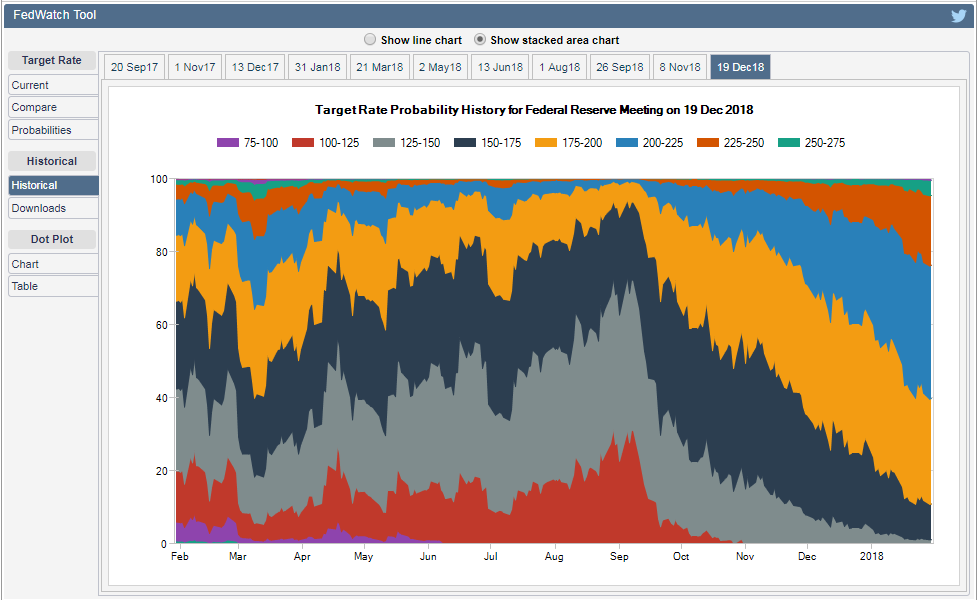 Tuesday's sharp drop in US and world stock markets saw investors liquidate shares yet again in the largest
gold-backed ETF product
, the SPDR Gold Trust (NYSEArca:GLD).
The GLD's number of shares outstanding has
now shrunk by 0.5%
from last week's near 2-month high, needing 845 tonnes of gold bullion bars to back its stockmarket value.
Shanghai bullion trading today saw Yuan prices hold firm while the currency rose to new multi-year highs against the Dollar.
That pushed the premium for gold bars already delivered in the world's No.1 consumer market up to $10.20 per ounce above comparable London quotes – the strongest incentive to new imports to China so far in 2018.
With the US currency resuming its decline on the FX market on Wednesday, gold bars held at or below unchanged for 2018 so far for investors outside the US and Canadian Dollars.
So-called crypto-currency Bitcoin meantime
dipped below $10,000
for the 4th time in 2 weeks after crossing up through that level on 1st December, some 933% higher from where it began 2017.