GOLD BAR prices traded in a tight $7 per ounce range Thursday in London, recovering a drop to $1318 overnight as US bond yields eased lower and betting on a US Fed interest-rate hike at next week's meeting held the odds below 1-in-7.
The Shanghai Gold Exchange
was closed
for China's mid-autumn festival, re-opening Monday.
Asian stock markets closed lower, but European equities held flat – and London shares rose – after the Bank of England
left UK interest rates at last month's new all-time low
of 0.25% and continued to target record-high QE bond holdings of £435 billion, financed by the creation of new central-bank money.
Wholesale gold bar prices for UK investors rose back above last week's closing level, reaching £1003 per ounce.
A report in India's Economic Times meantime blamed this year's heavy discounts to global prices in the world's No.2 consumer gold market on large smuggling supplies, now apparently being shut down by tighter customs' checks.
"From March we observed a 50-60% drop in official imports of bullion," ET quotes James Jose, secretary at India's Association of Gold Refineries and Mints – "[a] gap taken care by the grey market that offered 5% discount from the daily international rate…killing the official gold sector and draining government revenues."
With "beefed up" security checks at airports and other entry points, "Hopefully by the end of this month the discount will disappear" from its current 1% level, Jose says.
But rather than naming smuggled supplies, "high gold prices have not only led to a drop in jewellery demand," counters the latest weekly note from specialist analysts Metals Focus, "but have also contributed to increased levels of recycling and dishoarding.
"The impact on Australian-Indian trade in particular has been quite stark, with shipments having effectively disappeared in recent months."
Shipments to the UK in contrast – barely featuring in 2015 – have accounted for almost half of all Australia's outbound shipments on the IHS Markit data charted in Metals Focus' latest Precious Metals Weekly.
All told – and with little consumer or industrial demand to speak of – the UK saw net gold imports total 750 tonnes in the first 7 months of 2016, recovering one-third of the huge 2013-2015 outflows.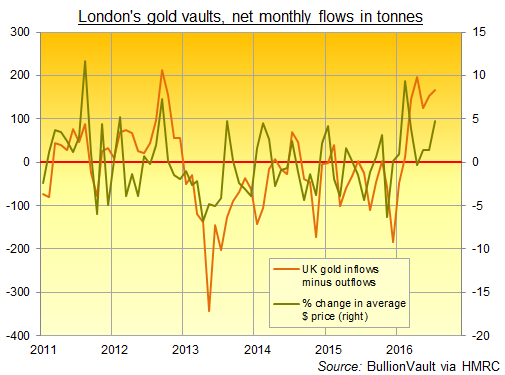 With the vast bulk of these bars delivered to London's specialist vaults for market-ready storage, this year's flow again maps changes in the quantities of bullion needed to back
exchange-traded trust fund vehicles
such as the SPDR Gold Trust (NYSEArca:GLD), which vaults at HSBC Bank in London.
In contrast to India's plunge, "Australian deliveries to China have fallen by 9% year-on-year,"
Metals Focus
goes on, "[a] relatively small [and] surprising decline given the sharp decline in Mainland China's gold jewellery fabrication."
Gold bar inflows to China
– itself the world's No.1 gold-mining nation since 2007 – have held firmer than consumer demand thanks to importers wanting to meet their official quotas each month or risk losing them, says a recent article from ICBC Standard Bank strategist Tom Kendall.
Declining consumer demand has also met a boom in gold's use in financial deals, Kendall says, as lower-cost bullion loans and leases become attractive to non-gold borrowers.