GOLD BAR prices in the global wholesale market jumped Thursday afternoon in London as weaker-than-expected US inflation data followed a fresh threat from North Korea of firing missiles – possibly nuclear – towards the US island territory and Asian military base of Guam.
Priced in Dollars, large gold bars came within $10 of June's 7-month high above $1295 per ounce, rising 1.2% from the same time last week at Thursday afternoon's London gold benchmarking.
That was outpaced however both by gold in Sterling (+2.1%) and gold in Euro terms (+2.2%), marking only the
9th time out of 32 weeks
ending Thursday so far in 2017 that the US Dollar rose on the FX market against both Pounds and the single currency.
"The
escalation of rhetoric
between [President Trump and Pyongyang] may see further safe-haven inspired gains for gold in the coming days," says Jonathan Butler at Japanese conglomerate Mitsubishi.
"The latest flare up," adds FX strategist Steven Barrow at Standard Bank, "has [also] given a boost to so-called haven currencies…the Dollar, the Yen and Swiss Franc.
"But in our view all these 'haven' currencies are in longer-term downtrends [and their current] buyers will have to assume that the present geopolitical concerns will not only persist but also mushroom into something much more sinister."
Despite Wednesday's added geopolitical tensions, investors trading the SPDR Gold Trust (NYSEArca:GLD) yesterday held the giant gold-backed ETFs outstanding shares unchanged for the second day running near an 18-month low.
That left the GLD needing 786 tonnes of gold bullion bars to back its value, compared with a top above 1,350 tonnes as US quantitative easing was raised to its peak in late 2012.
Since the GLD was launched in late 2004, its size has shown a rolling 4-week correlation of +0.41 with the Dollar price of large gold bars, a statistically significant positive relationship.
That figure would read +1.0 if the GLD's size moved absolutely in lockstep together.
It has fallen as far as -0.95 over the last month, the strongest negative correlation since Spring 2011, just before gold shot to its current all-time highs at $1900 per ounce and began a 4-year decline of 45%.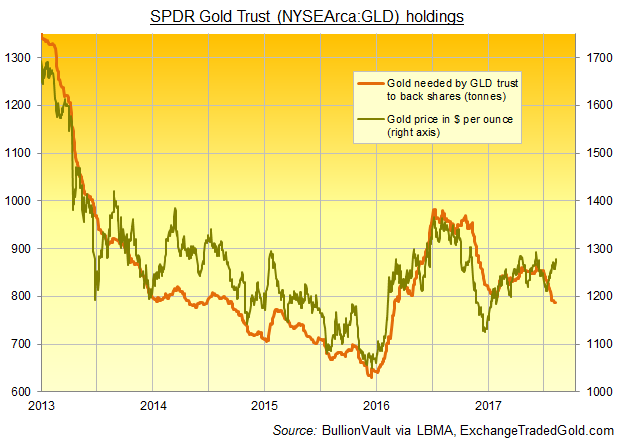 With US consumer-price inflation data due Friday, today's US producer-price data said corporate input costs slipped 0.1% in July from June – the
sharpest 1-month drop since August 2016
– as services and energy charges fell.
Analysts had forecasted a 0.1% monthly rise.
"If as expected [Friday's CPI report] shows an uptick towards the 2% annual inflation level," says Butler at Mitsubishi, "it could lead to a rally in yields and damage gold.
"Equally, a stalling of inflation could push back expectations of rate rises and help bullion."
Chinese gold prices had earlier ended the day 0.8% higher in Shanghai, capped by a surge in the Yuan on the currency market to its strongest Dollar value since October last year.
That pushed the Shanghai gold premium – over and above the global benchmark of London bullion bar quotes – back beneath $8 per ounce, some 15% below the typical incentive offered to new imports into the world's No.1 consumer nation.