GOLD and SILVER PRICES rose against a weakening US Dollar in London trade Monday, rallying to $1298 and $16.55 per ounce respectively as China and European leaders repeated their challenge to President Trump's imposition of trade tariffs.
Beijing also
hit back this weekend
over the European Commission lodging a complaint with the World Trade Organization over its "breach of patent rights of European companies", made alongside a complaint to the WTO over Washington's new import charges.
World stock markets meantime extended their gains while borrowing costs fell again for the new governments of Eurozone members Spain and Italy.
Data released Friday by US regulator the CFTC showed a rise in bullish betting on all precious metals in the week-ending last Tuesday – the day
Italian bond yields hit multi-year peaks
amid confusion over the rightwing Lega and leftwing M5S parties' choice of ministers.
Hedge funds and other money managers grew their net speculative betting on Comex gold futures and options to a 5-week high as a group, but that was still barely 50% of the average level.
Silver betting by the 'Managed Money' category meantime turned net bullish for the first time in a month.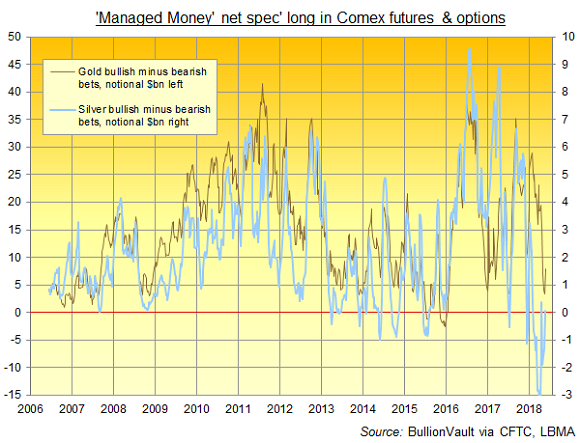 With
strong US jobs data
then following news of Italy's new coalition forming a government, both silver and gold prices erased the previous week's gains against the Dollar.
Gold ended near its lowest Friday finish of 2018 to date around $1293, while silver ended at a 9-week closing low of $16.41 per ounce.
Marking his 500th day in office on Monday, "This is the
best time EVER to look for a job
," tweeted US President Donald Trump today, quoting a columnist from the Wall Street Journal after pre-empting Friday's strong jobs data report via Twitter.
"The most important behavioral statistic in the jobs report
was the quit rate
," says economist David Rosenberg at asset manager Gluskin Sheff, "which hit an 18-year high.
"Workers are telling their bosses where to shove their lousy pay. Profit margins at risk of facing the big squeeze!"
"With Trump in the White House, anything can and probably will happen at a second's notice," say London-based brokers Marex Spectron, "but overall the market is quiet, range bound and quite frankly, rather boring."
"Our fundamental view on gold is neutral to bearish," says a new commodities note from French investment and bullion market-making bank Societe Generale, pointing to "the rising yield environment and a largely oversupplied physical market."
Only if other financial markets see "risk-off sentiment intensify" would SocGen close a recommended bet against gold in favor of industrial precious metal palladium.
Net of India's 10% import duty, gold landed in the hub of Ahmedabad ended last week at a discount of $2 per ounce to London according to futures exchange NCDEX.
Wholesale
gold bullion bars
in the No.1 consumer nation of China meantime held Monday around $5 above London quotes, barely half the typical Shanghai premium.