GOLD and SILVER both headed for new multi-year weekly closing highs in London trade Friday, extending their strongest 6-monthly gains since summer 2011 after the UK's Bank of England said it is poised to start new quantitative easing money-creation and bond-buying in response to last week's 'Leave' decision in the Brexit referendum.
Having repeatedly warned that Brexit risked causing recession for the world's fifth largest national economy (now No.6 thanks to the Pound Sterling's plunge), BoE governor Mark Carney last Friday said £250 billion stood ready to support UK banks and markets.
"
Plan beats no plan
," he said Thursday – widely taken as a jibe at UK politics' fast-worsening
infighting and paralysis
– but "monetary policy cannot immediately or fully offset the economic implications of a large, negative shock."
Priced in either British Pounds or the single Euro currency, gold bullion today headed for its highest weekly finish since 5 April 2013, the week before precious metals began their worst price crash in 3 decades.
Trading above £1000 per ounce Friday morning, gold bullion in June recorded its strongest monthly rise for UK investors since August 1982, gaining 18.8%.
UK finance minister George Osborne this morning
abandoned his target
of reaching a balanced budget by 2020.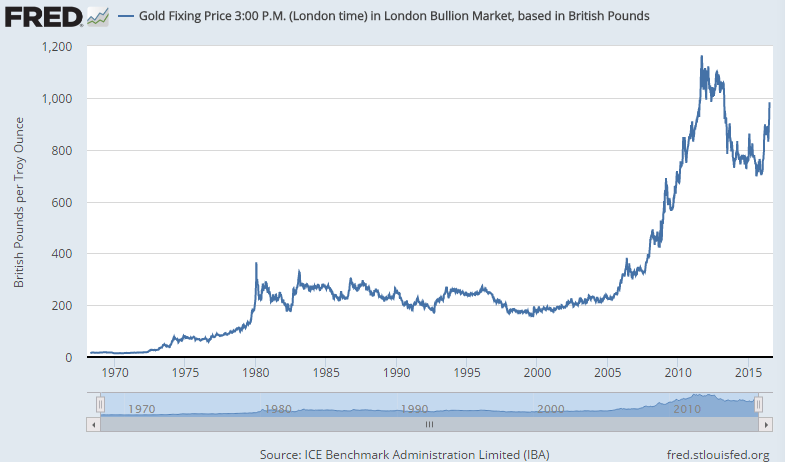 Silver broke sharply higher overnight, rising through $19 per ounce to join gold bullion near 2-year highs in Dollar terms.
Swiss investment and London bullion bank UBS now forecasts a price above $1500 per ounce by early 2017.
"I am not prejudging the views of the other independent [Bank of England committee] members," Carney said in his detailed speech Thursday, "[but] the economic outlook has deteriorated and some monetary policy easing will likely be required over the summer."
The Bank of England today holds £375 billion of UK government debt, maintaining its total holdings by buying more Gilts with the money from maturing bonds since additional quantitative was
last made in July 2012
.
UK base rates have now been held at a record low of 0.5% since March 2009.
Consumer-price inflation was last reported at
0.3% per year for May
, but inflation expectations as measured by the Gilt market shot to 12-month highs on a half-decade horizon this week, above the Bank of England's 2.0% target, as the likelihood of fresh QE, plus Sterling's fall,
drove traders to buy inflation-protected
government debt.
With gold prices closing June 24% higher in Dollar terms for 2016 so far, UK fund managers Schroders
yesterday said it will launch
a new gold-mining investment fund, claiming that after "15 years of underperformance relative to the gold price, producers have become very cheap and are discounting gold prices significantly less than current spot."
New data yesterday showed UK business investment shrinking than first estimated in Q1, down 0.6% from the end of 2015.
Consumer price deflation in Japan's capital Tokyo held at 0.5% per year last month, first-flash estimates said overnight.
China's Caixin survey of manufacturing managers' sentiment
worsened in June
, its PMI index said Friday morning, holding negative for the 16th month running.