GOLD PRICES outpaced a drop in world stock markets on Tuesday in London, dropping $10 per ounce from the US Labor Day weekend as the Dollar resumed its climb versus other currencies but reaching its highest value against silver since March 1995 as the gray metal sank on the bullion market.
No.10 silver-mining nation Argentina also "took steps" to defend its Peso currency, the
New York Times
reports, slashing the number of government ministries and
imposing a new tax on exports
, with President Mauricio Macri saying "This is not just another crisis. It has to be the last."
Silver prices today hit 21-month lows at $14.16 per ounce, driving the Gold/Silver Ratio of the two precious metals' prices up past the 2008 crisis peak to reach 84.5 
The ratio has averaged 55.5 ounces of silver per 1 ounce of gold over the last half-century.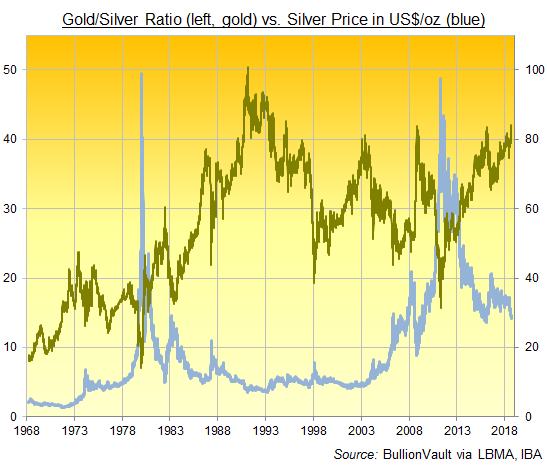 "The emerging market economic crisis is making currencies very weak and benefiting the Dollar," Reuters quotes Hong Kong dealer Peter Fung at Wing Fung Precious Metals, "which continues to pressure gold.
Trading at $1193 as New York dealing began today, gold priced in Dollars has now fallen in 9 of the last 12 weeks – the same number as the US currency's broad trade-weighted index has risen on the forex market.
Priced in other major currencies gold was little changed Tuesday from Monday's quiet session, slipping to €1032 for Eurozone investors and holding above £930 for UK investors as the Pound lost value yet again. 
UK construction activity fell hard in August from July's 14-month high, the new PMI survey from data providers IHS Markit said today.
Presenting the latest Bank of England
Inflation Report
to Parliament later on Tuesday, current chief Mark
Carney was set to be quizzed
by lawmakers over rumors he has been asked to stay in the role beyond 2019's Brexit from the European Union.
Gold priced in Australian Dollars held little changed Tuesday from Monday after the Reserve Bank of Australia kept its key interest rate
unchanged at a record low
of 1.5% for the 25th month in a row, saying this should "support the Australian economy."
Now the No.2 gold-mining nation behind China, Australia's output over the last 12 months
has hit a 20-year high
according to consultancy Surbiton Associates, totalling 310 tonnes.
Formerly the world's No.1 gold mining nation, South Africa has seen output slide to position No.6 over the last 20 years.
The Mexican Peso – currency of the top silver mining nation – fell hard on Tuesday, helping support metal prices for local producers.