GOLD PRICES sank 0.6% against the Dollar on Friday as the US reported stronger-than-expected jobs data for July.
New York's stock markets opened the day lower as the Dollar rallied from its latest 31-month lows to the Euro and bond prices fell, pushing longer-term interest rates higher.
Non-farm payrolls expanded by 209,000 last month, the
Bureau of Labor Statistics said
, beating analyst forecasts of 183,000 with June's figure also revised higher.
Having recovered last week's finish of $1269 on Friday morning, Dollar-priced gold dropped $7 immediately after today's new US jobs data.
Gold prices had previously risen 3.9% from 1 month before, the fastest rolling 1-month rate of gain since start-June's peak at $1295 per ounce.
Across the 1-month period ending Thursday however, the world's largest exchange-traded gold investment vehicle – the giant SPDR Gold Trust (NYSEArca:GLD) – shrank by 5.8%, the fastest drop in the number of shares in issue since New Year.
Outside the start of 2017, the only month of similar gold price gains to see heavier investor liquidation of the GLD ETF was the 1-month period ending 7 September 2011 – the
day that gold prices began their drop
from all-time record highs above $1900 per ounce.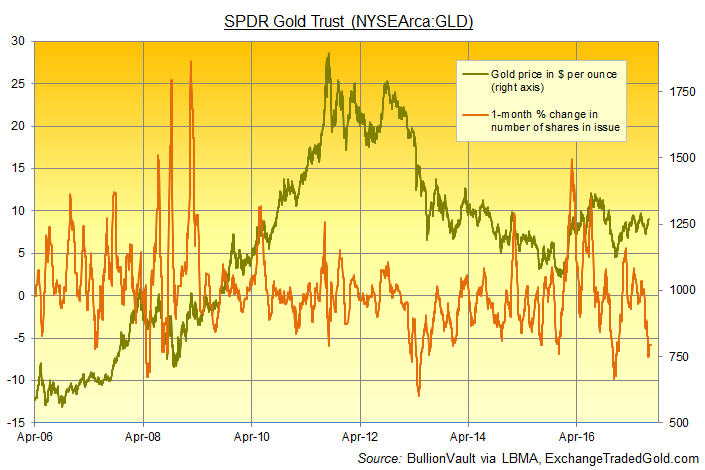 "Near term we would allow for some slippage to the $1250/30 zone ahead of further strength," said this week's technical analysis of gold prices from German financial services group Commerzbank.
"The market has eroded…the June high [at $1295]…and as a result implies a test of the [July] 2016-2017 downtrend at $1282 and a return to the top of [this year's] range.
"Our longer term bias is bullish, but this will only be confirmed on a break and weekly close above $1295."
Friday's US jobs data also said the unemployment rate slipped to 4.3% last month, its lowest July reading since the year 2000. Annual wage growth held at June's 2.5% rate.
"The private sector is
approaching full employment
across the skill set spectrum," Bloomberg quotes US brokerage Jefferies LLC's chief economist Ward McCarthy.
After reporting second-quarter GDP up 2.6% per year after inflation last week, the Bureau of Economic Analysis meantime said the US trade deficit shrank in June to $43.6 billion, with exports rising as imports fell.
"The key determinant for direction [in gold prices] will likely fall to the USD," said Friday's trading note from Swiss refiners and finance group MKS Pamp.
"[The Dollar] currently sits on a number of key support levels in [index] terms as well as against the Euro and Yen."
Despite the US currency trimming its week-on-week drop versus the Euro after today's jobs data, Euro gold prices still headed Friday afternoon for a 1.3% weekly drop at €1065 per ounce. 
Earlier Friday in China, Shanghai gold premiums rose earlier from yesterday's 9-month low near $5 per ounce, rising to offer new importers $6.20 over London quotes – still one third below the typical incentive for bullion inflows to the world's No.1 gold mining, importing and consumer nation.