GOLD PRICES popped higher on Thursday in London, erasing the last 2 weeks' losses as global stock markets slipped lower once more and US President Donald Trump railed against claims that White House insiders are actively working against his agenda and policies.
Trading at $1205 per ounce as New York opened for business, gold priced in other major currencies also rose, recovering £930 for UK investors and €1034 versus the single Euro currency.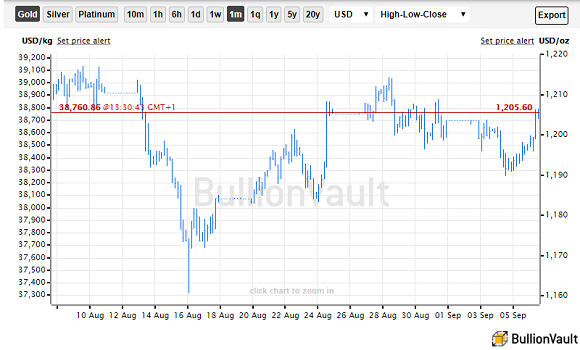 Relative to London quotes, Shanghai premiums for gold delivered in the No.1 consumer nation held above $7 per ounce overnight as both the Yuan and gold steadied versus the Dollar.
With new tariffs already hitting $50 billion of annual imports into each other's territory, the US is about to raise tariffs on a further $200bn of Chinese goods.
A group of US senators meantime wants to
impose sanctions on any country
which ceases to recognize Taiwan as an independent state – a growing trend in recent years, with the Communist authorities in Beijing
apparently giving
the Dominican Republic $3bn just before its change of allegiance to China in May.
Hoping to extend to Canada the revised Nafta free-trade deal agreed with Mexico last month, "The hope is that
this puts a lot of pressure on the Chinas
of the world to help us negotiate better reciprocal trade deals," says Kevin Hassett, chair of Trump's Council of Economic Advisers.
Trump himself meantime took to Twitter overnight to lambast the
New York Times
for publishing the
claims of "active resistance
inside the White House" to his policies from an anonymous "senior administration source".
I'm draining the Swamp, and the Swamp is trying to fight back. Don't worry, we will win!

— Donald J. Trump (@realDonaldTrump) September 6, 2018
Silver matched gold's rally this morning, rising to $14.26 per ounce to bounce 1.6% from Tuesday's plunge to the lowest Dollar price since January 2016.
That kept the Gold/Silver Ratio around Wednesday's new 23-year high, pricing one ounce of gold at 84.5 ounces of silver.
Now more than 50% more expensive against silver than its half-century average, gold has only been dearer on 579 days in history according to
the Gold/Silver Ratio
.
Silver's drop of $1.20 per ounce over the last month has seen the iShares Silver Trust (NYSEArca: SLV) stall and shrink in size, edging back by 19 tonnes but still holding near early August's one-year record of 10,274 tonnes.
That's equal to two-fifths of annual world silver mine output.
Investor interest in the giant SPDR Gold Trust (NYSEArca: GLD) has shrunk by 10% as the gold price has lost $100 since mid-June, taking the quantity of bullion needing to back its reduced number of shares in issue down below 747 tonnes – the smallest since February 2016.
Globally the quantity of gold held for all gold-backed ETFs shrank by 40 tonnes over August to 2,353 tonnes – led by that drop in US trust funds –
according to data
compiled and published today by the mining industry-supported World Gold Council.
The third consecutive month of outflows, that took total gold ETF holdings to the lowest since November 2017, equal to some 71% of annual world mine output.