GOLD PRICES fell yet again as the Dollar rose on Thursday, touching the lowest level since mid-December at $1262 per ounce as new US data said the number of people claiming jobless benefits fell last week to fresh 4-decade lows.
European stock markets fell for the 4th time in 5 sessions and industrial commodity prices also fell as the Dollar rose to new 11-month highs against the Euro on the FX market.
Major government bond prices rallied as equities dropped, edging longer-term interest rates back down from yesterday's 1-week highs.
"US Dollar strength and rising interest rates are not an ideal set-up for gold prices," says a note from Swiss bank UBS's Global Wealth Management team.
"But we stay bullish over the longer term," UBS goes on – retaining a 12-month price forecast of $1375 – because the global economic cycle is now "at a late stage…larger US budget and current account deficits will eventually undermine the Dollar…[and] broader inflation trends [are] pointing up worldwide.
"Investors will likely increasingly look to own real physical assets like gold."
Investor interest showed no change Wednesday in the SPDR Gold Trust (NYSEArca:GLD), leaving the world's largest gold-backed ETF product unchanged in size for the 8th session running.
That matches the GLD's 3 previous longest runs of no change, back in October and Nov' 2017 and then in April 2018.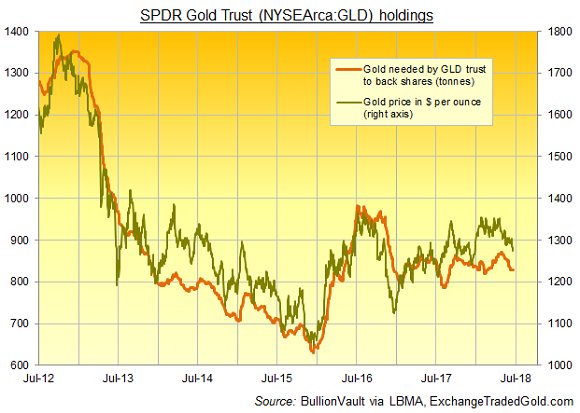 With silver prices setting fresh 1-month lows on Wednesday, investor interest in the giant
iShares Silver Trust
(NYSEArca:SLV) grew to its largest size since 21 May.
The SLV needed 9,842 tonnes of silver to back its shares at last night's close, equal to 38% of annual silver mine output worldwide.
Both silver and gold also fell priced in the Euro currency on Thursday, but only to 1-month and 2-week lows respectively.
German, French and Italian investors saw gold touch a low of €1092 per ounce – down some 3.5% from the 1-year high hit at the end of May.
Gold priced in Sterling
also fell to its lowest level in a month, slipping to £956 as the Bank of England held UK monetary policy unchanged but 3 of its 9 committee members dissented, voting instead to raise interest rates from the current 0.5% per year.
Favoring "an immediate increase in Bank Rate," say the
BoE's notes from the meeting
, "these members [fear] sustained inflation" could force sharper rate rises ahead "and hence a sharper adjustment in growth and employment."
Retail gold prices in New Delhi have meantime "tumbled" 1% so far this week according to
The Times of India
, thanks to "
muted demand
".
China's
benchmark wholesale price
fell today to its lowest level since 22 May, but the Yuan currency fell harder to reach new 5-month lows against the Dollar.
That edged the premium for
gold bullion bars
delivered in Shanghai over London up to $5.80 per ounce, still one-third below the typical incentive for new imports into the world's No.1 gold consumer nation.
Out of 6,300 words in today's Bank of England minutes, just 1 paragraph refers to the UK's March 2019 Brexit from the European Union, saying only that the "economic implications [will] be influenced significantly by the expectations of households, firms and financial markets" about the UK's future trading relationship with the world's largest economic bloc.