GOLD PRICES steadied from yesterday's plunge through $1200 per ounce on Thanksgiving Thursday in London, as quiet trading on the US holiday also saw stocks, bonds, commodities and currencies little changed.
Bullion held to back the value of shares in the SPDR Gold Trust (NYSEArca:GLD) shrank another 13 tonnes Wednesday as
gold fell back to its 2013 crash low
and investors quit the exchange-traded fund, taking its total holdings to a new 5-month low at 892 tonnes.
Net outflows from the GLD – the
largest gold ETF
– have added 1 weeks' global gold mining output to supply since November 8.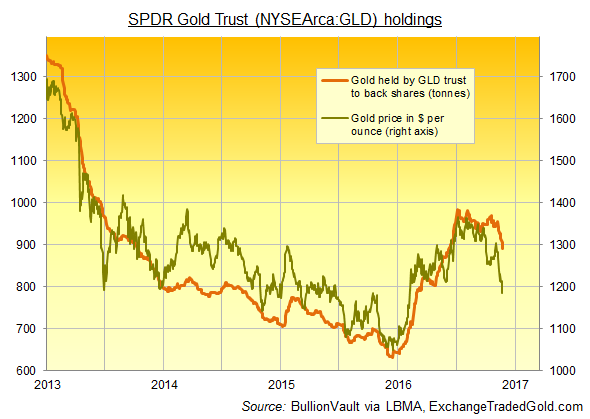 "Gold prices have dropped below $1200 on the Trump reflation trade," says a new analysis from Dutch bank ABN Amro's Georgette Boele, referring to the jump in US bond yields and equity prices.
"Investor demand remains the most crucial driver pushing gold prices lower. From an investor point of view there is [now] little reason to hold gold as an investment."
Gold then began a 30% price rise to July's post-Brexit peak at $1375, by when Boele had
raised ABN's end-2016 forecast to $1350
, predicting in July that "a Trump victory would be bullish for gold prices."
"I don't believe it," meantime says specialist consultancy Metal Focus' Phil Newman about rumors that the government of India – the world's No.2 consumer market – may ban gold imports.
"Panicked gold traders and jewellers,"
The Times of India
reported one week ago, "have
circulated messages amongst themselves
saying the government could ban import of gold for domestic use from early next year."
"What is real is that there has been tremendous uncertainty in the gold and silver market in India,"
Kitco quotes
Newman at Metals Focus.
Amid the global price drop, investors in Western gold markets "are looking for the white knight of the physical [Asian consumer] market," Newman adds, "and it is hard to see where it is going to come from."
Silver prices again outpaced gold on Thursday, holding firmer with a 1.3% loss against the Dollar for this week so far at $16.36 per ounce at lunchtime in London.
The
iShares Silver Trust
(NYSEArca:SLV) – the world's largest silver ETF – has shrunk by almost 1% since Monday, liquidating nearly 100 tonnes of bullion by end-Wednesday.
That's equal to more than 1 day's global silver mine output.